MomsRising supports breastfeeding moms in a variety of ways. In a series within our weekly #WellnessWed chats, we've raised awareness about the challenges moms face in meeting breastfeeding goals without access to paid family and medical leave. We also launched the #IPumpedHere campaign, raising awareness about the lack of adequate break time and accommodations for pumping moms, including the negative impact of not having paid family and medical leave. Our partners include Black Breastfeeding Week organizers, US Breastfeeding Council, midwives, lactation consultants, and many others. 
Take Action
Corporate interests, enforced by bullying tactics, should never be put ahead of public health policy decisions.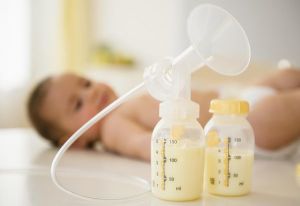 Anthem BCBS wants to limit access to non-prescription electric breast pumps for breastfeeding moms.
You can't bring your baby on the Senate floor? Uh, What? That's not okay! Add your name to our letter now urging Senate Majority Leader McConnell to modernize the outdated U.S. Senate rules and allow Senators to bring their infant children on the Senate floor.