#KeepMarching is an on-the-ground network of MomsRising's most active, engaged, and powerful members. When you become a #KeepMarching leader, you connect with other active MomsRising members in all 50 states. You get  immediate access to  MomsRising staff who provide resources and guidance for your activism -- from helping you develop a petition idea or tell your story to the news media, to helping you organize a postcard party or hold a press conference. Video meetings, mobile tools, and issue trainings are just a few of the resources available to #KeepMarching leaders.
In 2018, MomsRising's executive director Kristin Rowe-Finkbeiner released an innovative new book that captures and reinforces the spirit of #KeepMarching. The book, also titled Keep Marching, is a personal, persuasive, intersectional and highly researched examination of the institutional, economic, and political barriers that women in America face every day, and offers groundbreaking solutions on how to surmount those barriers. Keep Marching is not only a great how-to manual for taking action, but also a valuable reference, with stories and statistics that dig in to how issues impact different communities differently.
Contact: keepmarching@momsrising.org
Sign up to join #KeepMarching and get updates on upcoming meetings, actions, and other opportunities: https://action.momsrising.org/signup/MRKeepMarchingCircles_JOIN/
Check out our #KeepMarching resources here, including trainings and town hall recordings: https://www.momsrising.org/blog/updated-keepmarching-meeting-guides-and-recordings
Learn more about the Keep Marching book and purchasing options here (all proceeds go to MomsRising!): https://action.momsrising.org/signup/keep_marching_book/
Take Action
It's time to celebrate us. It's time to applaud our power together. It's time to lift other women. Will you take a moment to sign our public THANK YOU to all the women who are rising and who keep marching, resisting, and persisting for change?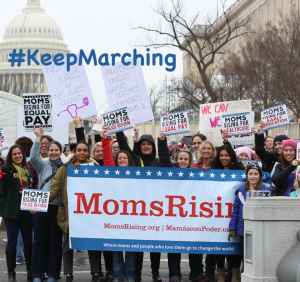 Keep Marching is the new book by our co-founder, Kristin Rowe-Finkbeiner. MomsRising is our movement. Will you Keep Marching with us? Get your copy today!
When you sign up to be a part of our #KeepMarching project, you'll be among the first to know about opportunities to take action, to hold book discussion groups, to help get out the vote and more! Don't worry. No pressure to do everything. We'll give you a menu of options and you just do the options that work best for you!