#KeepMarching is a network of grassroots leaders that MomsRising develops and supports, and who support each other, to grow and strengthen MomsRising's national movement at the local level.
Take Action
It's time to celebrate us. It's time to applaud our power together. It's time to lift other women. Will you take a moment to sign our public THANK YOU to all the women who are rising and who keep marching, resisting, and persisting for change?
Turning out votes is a big deal – and you can make a big difference. Every vote will count, and the efforts of every woman and mother to drive up voter participation will count! Join us on this call to hear more about why and how! #MomsVote #KeepMarching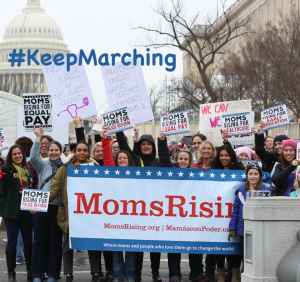 Keep Marching is the new book by our co-founder, Kristin Rowe-Finkbeiner. MomsRising is our movement. Will you Keep Marching with us? Get your copy today!
When you sign up to be a part of our #KeepMarching project, you'll be among the first to know about opportunities to take action, to hold book discussion groups, to help get out the vote and more! Don't worry. No pressure to do everything. We'll give you a menu of options and you just do the options that work best for you!