Pride Month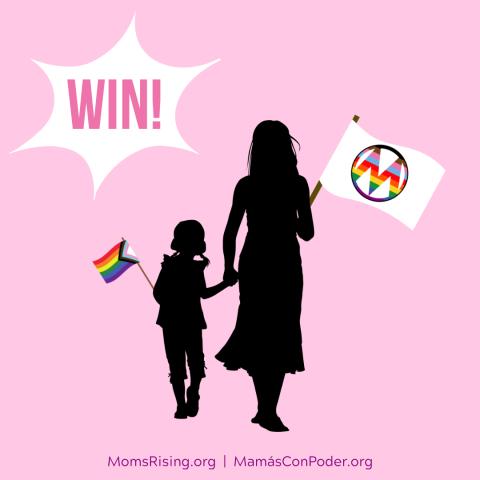 Protecting the freedom to read in New Hampshire
Summer is my favorite time of year - not just because the legislative session is mostly wrapped up, but also because of the warm weather (I type, as it continues to be cold and rainy outside) - AND because of Pride and the time that we take to intentionally highlight and uplift love for the LGBTQ+ community.
When I was thinking about Pride Month and the many ways that MomsRising can, will, and does show up for LGBTQ+ families, I was reminded to celebrate moments of joy. We don't celebrate nearly enough, and we have a lot to celebrate this year along with much to worry about.
This spring, MomsRising and our members were a part of a powerful coalition of voices who indefinitely postponed a so-called "parental bill of rights" which was a direct attack on our LGBTQ+ youth and would have forced school staff to "out" their students. This defeat means legislation like this can't be proposed again in New Hampshire until 2025. And that's a good thing, because we know that the majority of parents don't want policies like these.
Typically when these parental bill of wrongs pop up in states, they're coupled with other anti-LGBTQ practices and policies like book banning and restrictions on gender affirming care – typically spearheaded by groups like "Moms for Liberty" who advocate for banning books and against LGBTQ+ rights and honest, racially-inclusive school curriculum. 
Even in our little corner of the country we aren't immune to this hateful movement that has spread like hellfire. Just this winter a bill was introduced in New Hampshire that would have reinforced book banning procedures and perpetuated this hateful, growing movement. Thankfully, the bill didn't pass thanks in part to voters' local organizing. Unfortunately the "hate-spaghetti" (they thow everything at the wall to see if it sticks) is still here, as just last week a Neo-Nazi group terrorized a drag queen story hour in Concord. LGBTQ+ people had every reason to fear violence could be imminent from this group, who banged on the windows, chanted white supremacist slogans and held a racist banner, and who physically pushed a peacekeeper trained in de-escalation. Those who spread hate and fear through legislation and political messages are creating an environment in which this behavior is tolerated and even encouraged. 
So, I wasn't surprised to learn that 42 percent of books challenged have LGBTQ+ characters or themes since all of these hateful practices are so deeply embedded within each other. If you know me, you know that I love books (maybe you've seen my ever-growing to-be-read shelf in my background on Zoom calls) and I'm pretty sure I've said to my kids on more than one occasion in the aisles of stores that books are the only thing I'll never say no to buying – and they've definitely been known to take advantage of this policy!
I want my kids to have access to the books they want to read, especially because I know how critically important it is for their growth and development. As lifelong learners, I want them to have the ability to learn about our factual history, and to seek and understand the perspectives of other people! 
Yet, across the country, the practice of pulling books off of library shelves is increasing at alarming rates as censorship laws and book bans are passed through state legislatures, school boards, and prisons. In the first half of the 2022-2023 school year, 874 unique books have been banned across the country – with most being banned in Texas, Florida, Missouri, Utah, and South Carolina. To learn more about the uprising of book bans, check out Ruby's awesome blog post. In short, book bans are SCARY censorship and discriminatory practices that silence the stories of underrepresented and minority people and cultures.
I was excited to read (who am I joking? I saw a TikTok…) about how Illinois recently banned book banning and not long after I saw that Dover, NH City Councilors passed a resolution denouncing attempts to censor optional Dover library reading materials (I actually did read this one!) Despite how loud the hateful minority are, I know that we have the MOMentum in the Granite State to continue to push back, stand up and speak out for LGBTQ+ families in NH. 
Not that I have the space on my shelf, but I'll be reading banned books to celebrate Pride month. Join me - and don't forget you can buy online to support local LGBTQIA+-owned bookstores!