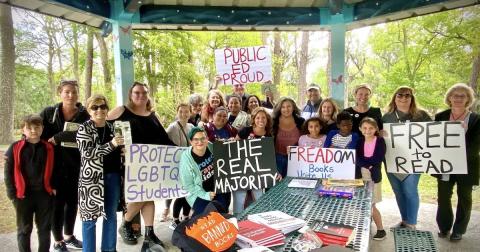 What you need to know about book bans in Florida
Children's books and young adult books are being banned across Florida and together we can put a stop to it. 
New to the issue? Read the description below.

 

If you are already looped in and ready to stop book bans, TAKE ACTION by clicking this link and skip to the links at the end for more actions. 
The "what in the what" on banned books in Florida: A series of censorship laws were passed in Florida in 2022 which has led to public school leaders pulling thousands of books from library shelves in schools and classrooms. In many places, books are being pulled and are awaiting 'review' as media specialists work to interpret vague legal language. This review process creates what are called "shadowbans" that limit student's access to books and may end up being a permanent book removal or ban. In essence, the book is banned through keeping it tied up in administrative red tape. 
What books are being banned: The books being banned will likely surprise you. They include biographies like The Life of Rosa Parks and cultural tradition board books like Festival of Colors about the Holi Festival and Love to Mama: A Tribute to Mothers.  By restricting access to diverse books, we limit the perspectives and voices that our children are exposed to and many children in Florida public schools are now missing out on the opportunity to see themselves and the diversity of our community in their school books. This can lead to a lack of diversity in thought and a narrowing of our collective understanding of the world. This is a discriminative tactic that perpetuates harmful rhetoric to our children and puts our children at risk of missing out on important ideas and concepts that could have a significant impact on their development and education.
Three specific laws are impacting the access to books in Florida:
HB7, Individual Freedom (Stop Woke) Act 

HB1557, Parental Rights in Education (Don't Say Gay bill), 

 HB1467, Curriculum Transparency
These censorship laws are silencing the stories of underrepresented and minority people and cultures. Suppressing these stories are a form of discrimination. For example, banning books that feature LGBTQ+ characters can be a way of denying the existence and validity of these identities, which can be harmful to LGBTQ+ youth. Similarly, banning books that deal with topics like race, religion, or gender can perpetuate harmful stereotypes and prevent children from developing empathy and understanding diverse communities.
Trying to comply with all of these requirements has become very challenging for educators. Many teachers and librarians are feeling pressured to eliminate certain books or topics in order to avoid controversy or pushback from parents or school boards. What's worse, is that mistakes in this Florida review process puts educators at risk of losing their teaching certification, or possibly being charged with a 3rd degree felony for permitting a book that could be found in violation of state law. This has created a climate of fear and significantly limits teachers' ability to provide a well-rounded education that prepares students for the complexities of the world.
It is important to stay informed about the books that are being challenged or banned in your community and take action. Here's what you can do:
Ultimately, Book banning can have serious consequences for our children's education. Our children should not be used as pawns in political culture wars. We must uphold the founding principles of American democracy and resist attempts to limit access to literature and advocate for a free and open exchange of ideas.