Take Action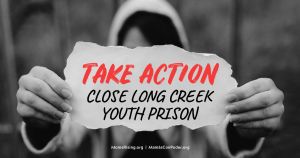 Maine's current youth incarceration system is a largely ineffective burden on taxpayers. Each year the state funnels millions of taxpayer dollars into youth prisons. This amounts to approximately $250,000 each year to incarcerate each young person in a state youth prison. While conversely the state only spends approximately 13,000 to send a child to school each year.[6] That is 19 times more spent on incarcerating young people versus educating them. Continuing to spend millions of dollars into youth incarceration is harmful and ineffective. By closing Long Creek Youth prison, we have the opportunity to reinvest in a new model of youth justice that promotes healing and community well being.
We, and especially our elected leaders, must immediately invest in communities and shift resources away from policing, where a deadly mix of white supremacy and violence remains unchecked.
The death penalty is as cruel as it is ineffective in deterring crime. Revenge is not justice and murder for murder does not provide healing to families or society as a whole.