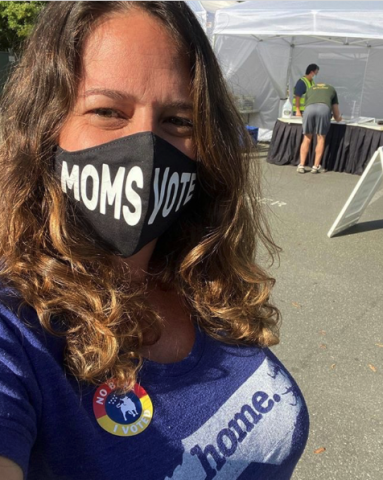 Review the Week: Vote, Vote, Vote [Oct. 23, 2020]
ICYMI: It's less than two weeks until Election Day, Tuesday, Nov. 3, and moms are RISING and VOTING in unprecedented numbers. Check out these fun election day posts that you loved, or might have missed, for the week ending Oct. 23, 2020. 
---
Moms are making plans and showing up to vote! We love to see and hear others sharing their reasons WHY they vote and how they're voting.
ADD YOUR THOUGHTS: https://www.instagram.com/p/CGnc69hswgj/
MAKE YOUR PLAN: http://www.momsrising.org/HowToVote
---
We asked our awesome Beacons of Hope volunteers -- moms who are engaging in massive nonpartisan voter engagement efforts targeting moms -- what inspired them to volunteer for this time-intensive program. WOW!
READ THESE RESPONSES: https://www.momsrising.org/blog/driven-by-hope-and-determination-moms-are-energized-to-get-out-the-vote
---
3. BLOG: New and Updated State Voting Guides 
Ready, set, VOTE! More moms than ever are igniting democracy this fall, voting and getting out the vote for the 2020 Election. MomsRising is proud to release NEW and UPDATED state-specific voting guides with important info on voting deadlines, sample ballots and more. 
FOR AZ: English | Spanish
FOR FL: English | Spanish
FOR MI: English | Spanish 
FOR NC: English | Spanish [updated]
FOR NH: English [new] 
FOR PA: English | Spanish [updated]
FOR WA: English [new] 
FOR WI: English | Spanish