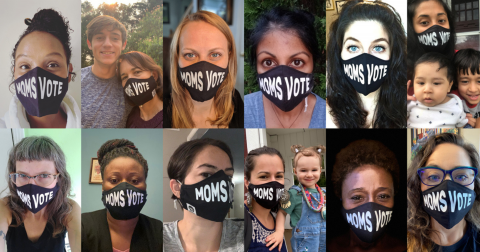 Washington State: It's time to get out the VOTE!
Read, set, VOTE! Washington State's voting period starts October 16th. This election, it is *absolutely* critical that we are taking the time to vote AND making sure our family, friends, and neighbors do the same! This election year, pledge to use your vote to make your voice heard and help others do the same. The future is what we do together and together we are powerful.
In Washington, we need you to use your vote and your power to APPROVE Referendum 90 to ensure medically accurate, age-appropriate, LGBTQ+ inclusive, and comprehensive sex education in Washington schools.
Check out the resources below and make your plan to vote in this election. After you make your plan, make sure your friends, family, and neighbors do the same. 
Want to get even more involved in this year's election? MomsRising is co-hosting a candidates forum with Governor Inslee on Friday, October 23 to hear more about his positions on issues that affect children and families in Washington State. Governor Inslee's opponent has also been invited to the forum but has not indicated that he will attend. We want to PACK the virtual room with families for this event. Will you join us? Learn more and register here!
**2020 Washington State Election Resources** 


Key Dates & Deadlines for voting in Washington State
October 16: Start of 18-day voting period (through Election Day). Ballots are mailed out and Accessible Voting Units (AVUs) are available at voting centers.
October 26: Online and mail registrations must be received 8 days before Election Day.
November 3: Deadline for Washington State voter registration or updates (in person only).
November 3: General Election
Information and resources about approving Referendum 90 for Safe and Healthy Youth 
Referendum 90 will uphold the new Washington state law requiring all public schools to teach age-appropriate, LGTBQ+ inclusive, comprehensive sexual health education to K-12 students.
Help get out the #MomsVote by texting and calling infrequent mom voters across Washington & the country
Please help us spread the word about these voting resources by sharing this blog post with your friends and followers on social media! 
Let's make this election MOMumental! It is time to get out the vote and make our voices heard. 
P.S. Have any questions about voting in Washington State? Post them below or email wainfo@momsrising.org and we are happy to help if we can!