MomsRising in North Carolina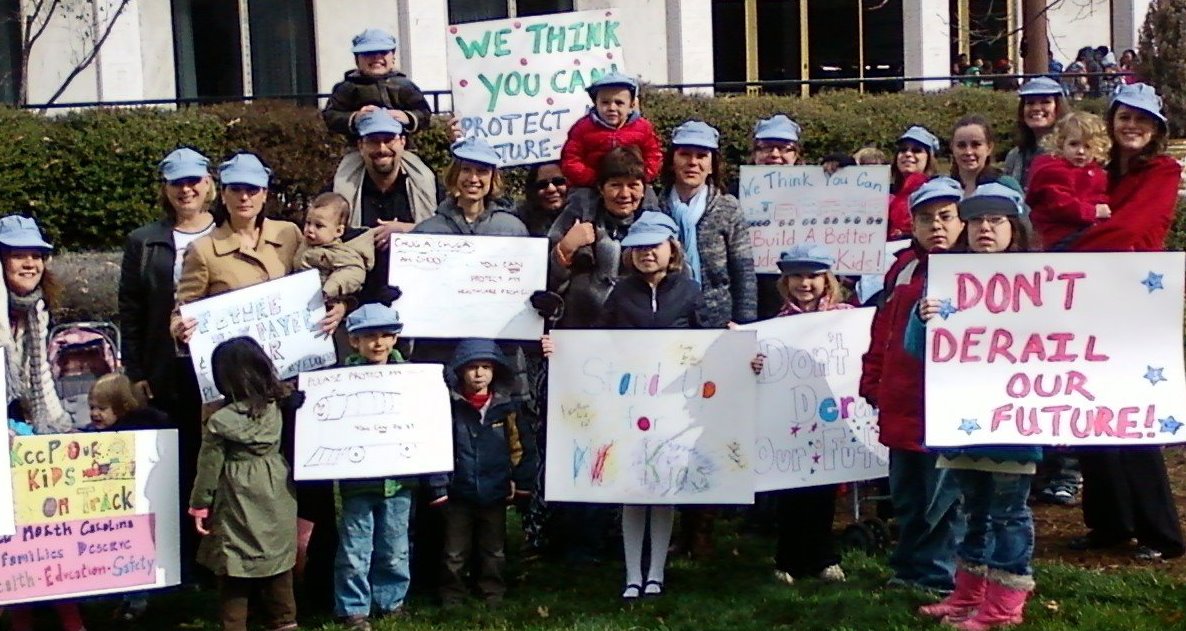 North Carolina MomsRising is the first state chapter of MomsRising.org, working to bring together millions of people who want a more family-friendly America. We are an all-volunteer group who care about our community, aren't afraid of a little politics, and share a concern about encouraging family-friendly policies in our state.
The efforts of our over 28,000 NC members in every NC county are already making a difference on state and national issues.
---
The Issues that North Carolina MomsRising is Working On:
Toxics
Want to say goodbye to those ever increasing parental worries about toxic chemicals? So do we! We're sick and tired of reading report after report about dangers associated with the products we use everyday: Bisphenol-A (BPA) in baby bottles, soda cans, and other everyday products; phthalates in toys and pacifiers; formaldehyde in baby shampoo. In fact, dangerous chemicals are found in everything from cosmetics to bedding to school supplies.
MomsRising has joined a growing movement of workers, scientists, fertility experts, and advocates in supporting comprehensive reform for America's chemical policy. As part of the Safer Chemicals, Healthy Families campaign, we're calling for updated chemical regulations so that chemicals are proven to be safe before they are out on the market and in the products our kids use every day.
Know Your Rights
NC MomsRising will be putting on a series of "Know Your Rights" workshops this fall. Far too often, mothers are so caught up in our responsibilities that we do not have time to find the resources needed to fully understand our rights. In addition, the topic areas where we need the most help are often filled with legal jargon and confusing exemptions that we need some assistance in understanding it all.
Recent Census data shows that women working full-time, year-round continue to earn less than their male counterparts in North Carolina - around 80 cents for a woman for every $1 earned by a man. Mothers are also all-too-often unsure of what their rights are under state and federal laws with regard to maternity leave, breastfeeding rights, and negotiations with their place of work.
Protecting Children in the State Budget
NC MomsRising fought hard these past two years to protect children in the North Carolina state budget. Moms and children personally delivered toy trains and giant paper dolls made by local children to state lawmakers as a reminder of the many parents who cannot make it to Raleigh but who are counting on their legislators to stand up for the proven programs on which their families depend.
North Carolina ranks 37th in the nation when it comes to child well-being according to The Annie E. Casey 2010 Kids County Data Book and is already under-investing in critical areas like education and health. North Carolina ranks 42nd nationally in per pupil expenditures in public schools and 37th in United Health's measure of state residents' health status, according to the Data Book. Infant mortality rates are among the worst in the country. Key family support programs like NC Health Choice and child care subsidies for working families currently have waiting lists in the tens of thousands.
NC families rely upon programs like Smart Start and child care subsidies to keep working. In 2010, 47,213 children in working families received assistance from Smart Start to pay for child care and 87,990 children benefited from the program's efforts to improve the quality of care.
---
Contact:
Campaign Director - Beth Messersmith - Beth@MomsRising.org