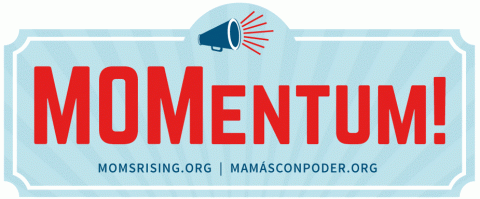 Unprecedented numbers for October MOMentum!
Your October MOMentum was incredible. Your generosity helped us dream bigger and bigger, then blow through goal after goal for voter engagement. By the time November and Election Day rolled around, we reached MILLIONS of mom voters--see some of the historic numbers below. 
In keeping with MomsRising's vision to reach moms where they are, MomsRising volunteers made millions of voter contacts through text banking and phone banking in addition to the postcard program, supported by the generosity of donors like you. The enthusiasm for this work was and continues to be at unprecedented levels. Together, hour by hour and day by day, we are building a better future for ourselves and our children.
Thank you for being part of the MomsRising movement.
---
Your generosity turbo-boosted MomsRising's voter engagement work in October! Those numbers above continued rising through Election Day thanks to the person-to-person, mom-to-mom outreach we organized with our phone and text banks.
Together, we've reached TENS OF MILLIONS of mom voters -- especially low-frequency voters -- helping them register to vote, learn about voting options in their state, and vote early in record-shattering numbers! 
Thank you for helping so many moms and families rise. 
---
MAKE A PLAN TO VOTE
Heading into November, the MomsRising community is doubling-down on reaching as many  moms as we possibly can, and encouraging them to vote. Your donations have fueled this essential online and on-the-ground outreach, including up-to-date bilingual guides on how to vote in key states (linked below), up-to-date tools to help voters make a plan to vote, family voting parties and more. 
Here's your one stop location to use (and share) to make your own plan to vote.
And here are some key state guides: 
Want to do more? Check out our post: 5 Ways To Help Get Out The Vote!
---
MEMBER LOVE
WOW! Since the summer, we've received more than 4,000 photos from enthusiastic GOTV postcard volunteers. You took us into your kitchens and living rooms, showed us your wonderful children, family, friends and even pets; and expressed so much joy and pride in participating -- safely -- in America's democracy.   
CHECK IT OUT: This blog post features some of our favorite photos of YOU from our GOTV postcard campaign! 
MEDIA SPOTLIGHT
Women are leaving the workforce in droves
Boston Globe, Oct. 2, 2020 
"We don't have an epidemic of personal failings...we have a national structural crisis that we can and will solve together."

--Kristin Rowe-Finkbeiner, Executive Director and co-founder of MomsRising.org