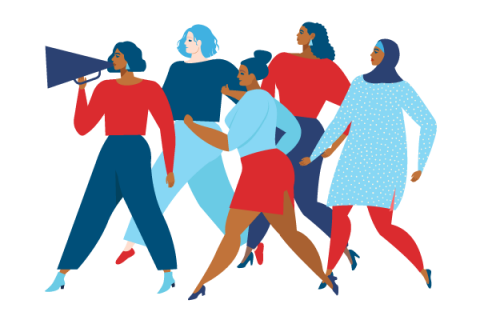 5 Ways to Help Get Out the Vote
It's #ElectionSeason, with many states already early voting -- and it's all hands on deck for everyone to help get out the vote between now and November 3rd.  Here are 5 top ways for you to help get out the vote now:
1- Make Your Own Plan to Vote - Get Your Local Voting Options for How & Where to Vote: 
Just like on airplanes where we're urged to put on our own oxygen masks first, start by finding out what your voting options are and making a plan to vote that works best for you and your family.  After you make your plan, then mark it on our calendar (and maybe even select a fun voting celebration snack and find some good music for your voting day!).
*Here's a link where you can get details about where to vote in-person, find out if your state has early voting and/or dropboxes, get info about vote-by-mail ,and get everything you need to make your plan to vote: https://action.momsrising.org/signup/ballotready_future/
2- Help 3 People Make A Plan to Vote & Find Out Where to Vote Locally:  
Reach out to at least 3 people to help them get the info they need to vote!  You can do this by texting 3 (or more!) people, posting on social media, emailing, or other. Here's sample content that you can cut & paste if you want:
→ Hey, the election season is here.  Some states are already early voting!  Time flies.  I have a great resource to share in case you need to find out where you can vote in-person on Nov. 3rd, as well as early voting, dropbox, and vote-by-mail options if your state has those. Just go here for all the info, which is customized for you after you fill out the form:  https://action.momsrising.org/signup/ballotready_future/   
(After you make your plan to vote, feel free to pass on this resource to 3 other people. Let's make sure everyone who wants to vote, can vote!)
Happy voting!  Thanks! ← 
We need you. We need your voice. We need your texting fingers. We really do. And we'll provide everything you need to make a big impact: A list of people who don't regularly vote that you call or text (maybe even in Spanish, if you know Spanish!), draft language to use, and easy calling and text platforms to help you get it all done with speed. Plus, you can make your calls and/or send your texts anytime that's convenient from the comfort of your home or from whatever location works for you.
We have just a couple weeks before Voting Day on November 3rd -- and we need your help reminding low frequency voters to vote! Research shows that personalized messages delivered in a conversational manner are one of the most effective ways to mobilize voters – and that's exactly what this program does. Plus, we have A LOT of work to do: Only about 58% of eligible voters turned out to vote in the last presidential election, which leaves a lot of room for improvement! So our personal voices are (quite literally) needed to inspire others to vote.
*Here's the link to sign up to make texts to help get out the vote (Feel free to share this link with friends too): https://action.momsrising.org/sign/text_2020/ 
Sign up for a volunteer shift to help call out the vote.  We have phone banks going now through Election Day to help remind low frequency mom voters to vote -- and to help get voters information about the early voting options, drop box locations, or where to vote in-person.  It's going to take all of us calling out the vote to fight the voter misinformation being spread.  So thank you in advance!   
*Here's the link to sign up for a shift (or two or three!) phonebanking: momsrising.org/phonebank-signup 
5- Be a Voter, Raise a Voter - Make voting a fun family activity!
Make voting a fun family activity, create a mini-party on zoom to fill out your ballots with friends and family, get together in a socially distanced way with masks and your ballots, or other.  You can be a voter and raise a future voter by involving kids! 
We pulled together some fun activities for you to introduce kids to the idea of voting and to show them that voting is fun AND important -- and these activities serve the dual purpose of also keeping kids occupied while you fill out your ballot. Just pick the activity that works best for the ages and interests of the children or young people in your life and get voting. For instance, you can make voting-themed crafts, create a voting-related story, or hold a mock election and let the kids vote. If the kids are older, you can talk over snacks about the issues that matter most to them, ask if they have thoughts on the candidates or issues being discussed in the election season, and answer (or look up together!) any questions they might have.
*Here are a few fun kid activity ideas for you along with how to make them happen: https://www.momsrising.org/blog/crafts-activities-and-ideas-to-celebrate-voting-with-your-kids 
Last, but not least, THANK YOU for fueling democracy, justice, and change!