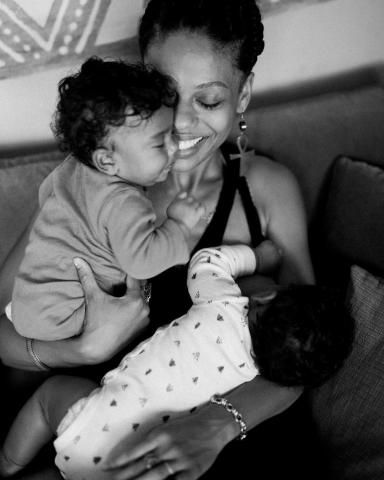 It's National Breastfeeding Month & I'm Fired Up!
It's National Breastfeeding Month and I am fired up!!
Why?  
Everywhere I turn moms and babies are under attack and as we kick off National Breastfeeding Month, breastfeeding moms are no exception.  
From earlier this spring when Anthem Blue Cross Blue Shield reduced reimbursement rates for some of the most common types of electric breast pumps on the market making it harder for women to get the pumps they need,to when the Trump Administration opposed a resolution supporting breastfeeding at the United Nations affiliated World Health Assembly in a move that put corporate wealth over moms' and babies' health, barrier after barrier are being put up for moms who are trying to do what's best for their babies.  
This is a big problem, because in the United States right now while 4 out of 5 U.S. mothers start out breastfeeding,t less than half are still breastfeeding at 6 months postpartum.  Many moms want to breastfeed, but face challenge after challenging in trying to meet their breastfeeding goals.  These barriers contribute to increasing health disparities, putting children of color and their moms at greater risk for disease and even death.  
Breastfeeding leads to healthier moms and babies.  Studies show that breastfeeding for the recommended six months can help decrease infant mortality and childhood disease among Black and Hispanic children.  It can also contribute to a lower risk of type 2 diabetes, certain types of breast and ovarian cancer in mothers.  
And breastfeeding isn't just good for moms and babies. The fact is that breastfeeding is good for the physical and economic health of our nation.  Recent studies have shown if mothers could meet current medical recommendations for breastfeeding it would save the US economy nearly $13 billion per year in paediatric health costs and premature deaths.
This August MomsRising will be shedding a light on the barriers that moms face in meeting doctors' recommended breastfeeding guidelines, we will lift up our members stories - the struggles, the joys, and every moment in between.  Join us throughout the month of August where each week we will be exploring a new topic:
August 1-7 (to coincide with World Breastfeeding Week): Babies 1st Food - Public Health over Corporate Profits
August 8 - 14 Paid Family Leave (Celebrating the 25th Anniversary of FMLA)
August 15 - 21 Workplace Supports
August 22 - 28  Your Stories!
August 25  - 31 Black Breastfeeding Week -
 
Haven't shared your story?  You can do so now.  Is social media your thing?  Snap a photo and tag us on Instagram, Twitter or Facebook with #NBMRisers18.  Share your story in our storybank, stand up against corporate interests, and advocate for public policies that support ALL breastfeeding moms.