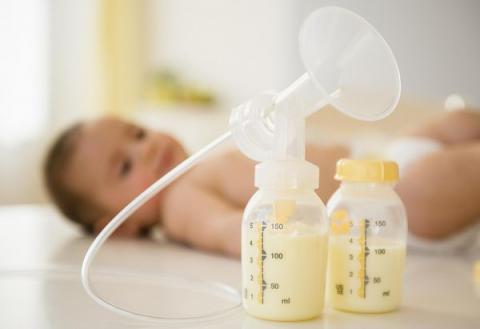 ACTION NEEDED: Anthem wants to limit access to breast pumps
After the premature birth of my twins, I felt like I spent more time with my breast pump than anything else.  My boys spent the first 8 and 9 weeks of their lives in the NICU until they were healthy and strong enough to go home. That first week I pumped every 2 hours, around the clock, sometimes just getting tiny droplets of milk. 
My breast pump made it possible for me to feed my sons breastmilk--the best possible thing I could give them according to doctors--and without insurance, I wouldn't have had the pump. 
Many breastfeeding moms depend on insurance to cover their breast pumps which is why I was shocked to learn that Anthem Blue Cross Blue Shield will make it more difficult for moms to have access to breast pumps via insurance by reducing reimbursement rates for some of the most common types of electric breast pumps on the market.[1]  
A lower reimbursement rate for common electric breast pumps could make it difficult, if not near impossible, for moms to have access to the breast pump most suited for their needs. Pumping itself is challenging enough, and we don't need any more barriers for new moms! 
***If we band together we may be able to get Anthem to reverse their decision. Anthem needs to know that moms, and the people who love them, will not stand by and watch them make it more difficult for moms to meet their breastfeeding goals by limiting access to the full range of available breast pump options! 
Here's the deal: Under the Affordable Care Act (ACA), insurance companies are required to cover lactation support and breastfeeding supplies, including breast pumps, at no cost to the customer.[2]  Breast pumps are an important tool for many moms meeting their breastfeeding goals. More than 85% of breastfeeding mothers express breastmilk, most of them using a pump for an extended period of time.[3] 
But just last month, Anthem informed their medical equipment providers (the companies that issue the insurance-covered breast pumps to new moms) that the companies would see a 44% reduction in reimbursements on electric breast pumps. According to the Alabama Breastfeeding Coalition, "Since only the most very basic pumps could be purchased for this amount, [lactation consultants] professionals feared that first time breastfeeding mothers would soon become frustrated with the inadequacy of the pump provided and cease to breastfeed for this reason."[4]
The Alabama Breastfeeding Coalition fought back and won in Alabama and now we can fight for all breastfeeding moms across the country.  
This new change is taking effect really soon - on April 1, 2018. Starting that day, Anthem will lower the reimbursement rates from $169.15 to $95.00 for breast pumps.  Anthem insures more than 40 million people across the country in 15 states.  If you live in CA, CO, CT, GA, IN, KY, ME, MO, NH, NV, IL, NY, OH, VA or WI you could be affected.[5]
Want to get really mad? At the same time Anthem is reducing reimbursement rates (presumably as a "cost saving" measure) their President and CEO, Gail K. Boudreaux, recently reported that their earnings were "ahead of expectations" as they entered 2018.[6] 
Whether it is pumping every few hours, because mom works full-time, or pumping occasionally, so her partner can offer baby a bottle, if we want moms to meet their breastfeeding goals, they must have access to a breast pump that fits their needs. 
Moms already face significant challenges trying to meet personal breastfeeding goals and the recommendations of public health professionals. Studies show that in the U.S., 4 out of 5 mothers start out breastfeeding, but less than half are still breastfeeding at 6 months postpartum.[7] Moms of color struggle even more. Limiting access to commonly used electric  breast pumps is not another barrier that moms needs to face.  
Breastfeeding isn't just good for moms and babies, it's also good for the economy! Recent studies have shown if mothers could meet current medical recommendations for breastfeeding it would save the US economy nearly $13 billion per year in pediatric health costs and premature deaths.[8]