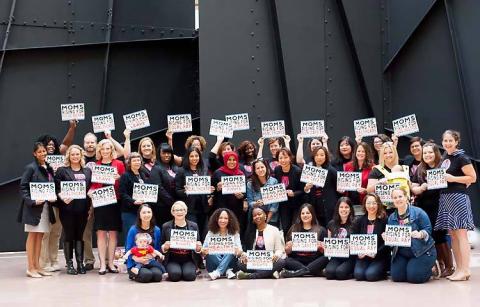 Happy #GivingTuesday! Your stories of grit and grace
As the sun sets on Giving Tuesday, I'm sitting here with pecan pie leftovers and an overwhelming feeling of gratitude for MomsRising members. Your stories on what keeps you going, why you #keepmarching, show the unstoppable grit and grace of a movement powered by women and moms. Here's a small sample of the amazing stories we received in answer to the question, "Why do you keep marching?"
Until every American has access to the full value of the American Constitution, until every child has solid nutrition and a sound education in basic skills, until everyone is free to love the partner of their choice without risking death or unemployment....I will keep marching. ~Linda C., CA
Because I have found other women who are still marching to keep me going when I want to give up. They inspire me and amaze me, and make me believe that it's true that any little thing I can do to help DOES make a difference. ~Barbara C., MN
I keep marching because it is unconscionable to accept the status quo - where single parents can work full time and still not have enough income to pay for adequate, stable housing or food for their children, where the wealth gap between haves and have nots has never been wider (most especially for people of color), and where health care is considered a luxury only for the wealthy. ~Katharine L., DC
I march for my son and my two daughters and for myself. I want to believe that we can change the rhetoric and direction of the country and world by showing up in numbers. I want to model what freedom is like for my children and let them know the power they have to chart the course of their future world. ~Karin L. CA
I want my daughter to be able to look back at our generation and see that we fought for what was right. ~Sarah W., UT
I #KeepMarching for the benefit of not only our country, but for the world! As a military retiree, I have made it my new mission to do everything in my power to advance changes to make the world better for everyone who doesn't have the time or resources to devote time to the many important issues we face today. And of course, I want to leave this world knowing I have done all I can for the future of my grandchildren! #VeteransForPeace #PeoplePower ~BrendaLee, FL
I believe that ALL people deserve a good education, access to health care, and economic security. I became a disability rights advocate in honor of my son Ethan who passed away when he was 8. He taught me that there are some things in life worth fighting for. Our democracy is one of those things....and I will never give up!! ~Regan B., NH
I'm going to bookmark this post so that whenever the going gets tough in the coming weeks, months, and years, I'll have a quick reminder that we're all in this together-- and that our team, our movement, is powerful! In this season of gratitude, I'm giving thanks for each and every one of you reading this, and everyone who's part of this movement to change our world. Let's keep marching, and let's keep rising together!
Read more in our uplifting Giving Tuesday blog series: