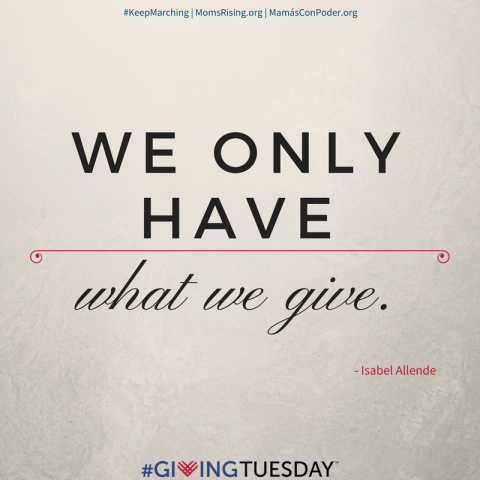 #GivingTuesday: How You Can Help Us Spread the Word!
I'm writing this sitting on the couch, still slightly stuffed after a small and quiet Thursday dinner that involved no turkey, lobster mac and cheese, brussel sprouts and an oversized pumpkin pie among other goodies.
The office is quiet and I just can't help it, I had to get online and write. Because I had something I needed to tell you.
We're approaching the most wonderful time of the year, and: GIVING TUESDAY!
What's #GivingTuesday, Sili?
I'm glad you asked!  #GivingTuesday is the Tuesday after Thanksgiving. The 92nd Street Y in NY started it in 2012 as a specific day for nonprofit fundraising that follows in the footsteps of Black Friday, Small Business Saturday, and Cyber Monday.
And it's quickly become one of the biggest single days of fundraising around the world! It's pretty cool to see everyone jump on this giving bandwagon. Check out the hashtag on Twitter to see all the people and organizations that are participating.
Wait! Is this about money, Sili?
For us, giving is about much more than a dollar. For these last 11 years, our members have shown up in so many different ways. Coloring images to send to Congress, creating onesies with important messages around paid leave, signing petition after petition after petition, walking the halls of Capitol Hill with babies, strollers, grandparents, and friends in tow. And of course, telling their stories!
These are the gestures that sustain us. The ones that have made us realize our power and strength when we come together, raise our voices and stand up for families across our country.
To that end, we want to hear what keeps you clicking those links for signatures, showing up for coffee and conversations, sending out postcards. What is it about this work that motivates you? Why do you #keepmarching?!
We would also LOVE it if you would share the message with your community and asked them why they #KeepMarching!
We have prepared a short social media toolkit to help. Here, you will find countdown images, links to pages you can print where you can write down your why so you can then take an #UNSelfie and share it with the world.
What you can do right now:
So, what do you say? Will you help us spread the word?