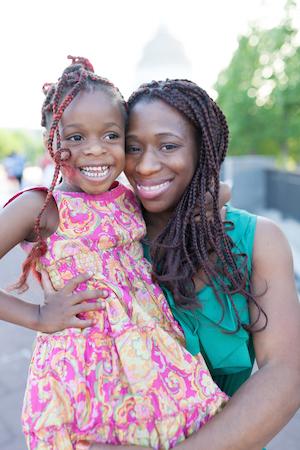 This Thanksgiving Eve, I Am So Grateful.
On Thanksgiving eve, I'm thankful, worried, busy, tired, and optimistic all at the same time. I bet you are too. I've got lists for the grocery store (can't forget the sweet potatoes!) and for Congress (urge them to stop their destructive tax plan in its tracks). This has been quite a year. I've been inspired by the power of women and moms (you!) raising their voices, and thankful that we've come together to do things like protect health care (more than once). I've been working hard this year and putting in long hours, fighting for women and families, and so have you. We take on problems big (fighting Trumpcare) and small (...just realized I forgot the cranberries), each and every day. I'm fueled by the power of this movement.
I'm proud of what we've been doing together, and my heart is bursting with gratitude.
MomsRising (that's all of us) has fought, like only moms can, all year long, and we are more powerful than ever. We won't be divided. We won't stop caring. We won't be silent. We WILL keep marching. For that, and for YOU, I am so grateful. I've never doubted your resolve, and this year, and on this day, it sustains me. Thank you. I hope it sustains you too.
Together, we've played a role in some incredible wins this year. Here are three:
Stopped the repeal of the Affordable Care Act (multiple times!)
Won the release of Maria Solis and four other pregnant women from detention in California
Passed a best-in-nation paid family and medical leave program in Washington State
Wins are markers of progress, and collectively we are building something BIG. We are shifting the foundations of our nation. I felt it as I watched historic numbers of women and people of color run for office and get elected on November 8. I feel it when I read #MeToo stories. I feel it every time I interact with a new MomsRising member. Do you feel it?
Last week we asked MomsRising members to tell us: Why do you keep marching? Here are some of your responses:
As long as some of my neighbors are needy, as long as some of my neighbors don't have health insurance, as long as some of my neighbors suffer discrimination, I'll keep marching.
- Betsy from Massachusetts
I want my daughter to be able to look back at our generation and see that we fought for what was right.
- Sarah from Utah
I keep marching because I want my daughter's journey into Black womanhood to be far less trepidatious than mine. I march today because I believe my fight for liberation today will determine the kind of world she will inherit.
- Tee from Maryland
I keep marching (and calling and writing) because I believe in the benevolent community and will fight those that would try to bring us back instead of moving us forward. 
- Julie from Kentucky
I #KeepMarching for all the people who cannot. We need to speak out for those too sick, too poor, too afraid. I will never give up and I will never give in. We can, and should, do so much better as a country. This Mom rises to the challenge, for every family.
- Barbara from New York
Over the last two weeks, I've been reading your #KeepMarching stories (over 500 of you submitted a story!) and getting inspired. Together we are doing nothing less than building a future we believe in - a future where ALL women and families can thrive.
I'm so grateful for the strength of this movement, and for every single person who is fighting this fight. Thank you for being a part of MomsRising.
P.S. Today is a great day to contribute to our movement. Your gift has double the power today thanks to an anonymous donor who is offering a one-to-one match through Giving Tuesday! Show your thanks for the power of moms and help us grow stronger by donating today. Thank you.