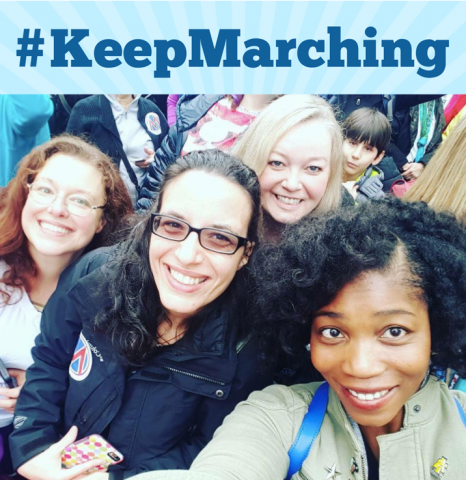 SIGN UP to #KeepMarching!
In Tuesday's election, democracy and justice won in many states across our nation, including Florida, Georgia, New Hampshire, New Jersey, North Carolina, Maine, Virginia, Washington State and in cities across the country! We saw huge voter turnout, historic wins for women and people of color, and a wave of positive change for our country and our democracy.
None of this would have been possible without an army of us working hard in our communities to write postcards, make phone calls, knock on doors, and so much more to turn out the #MomsVote in the lead up to Election Day.
But democracy and justice aren't about one day, one person, or one election. They're a slow, steady march - a thousand little actions that add up to change.
If you want to learn how to channel your passion into change, you've got a friend in MomsRising.
==>You're invited to become a MomsRising #KeepMarching Leader.
MomsRising knows a thing or two about organizing and advocacy. We share it all with #KeepMarching leaders.
When you become a #KeepMarching leader, you get:
Special expanded access to MomsRising staff
An invitation to our closed #KeepMarching Facebook leaders' group, to connect you with a growing network of #KeepMarching leaders
Tactical training on effective advocacy techniques such as holding meetings with lawmakers, using online tools to drive in-person action and how to write powerful Letters to the Editor
Special issue briefs and timely updates on healthcare, immigration, and more
There's a lot to do between now and the next election. We need strong allies like you.
Find out if our #KeepMarching leaders program is right for you - click here to learn more.
There's no obligation to do it all. No cost to join.
You will draw strength from our growing network of scrappy, fierce moms (and grandmothers and dads and everyone else!) -- just like you -- who want to make their community and our country a better place for women and families.
Please come join us! https://action.momsrising.org/signup/MRKeepMarchingSignUp/
Together, we'll #KeepMarching for women's rights and human rights, and for our families, our communities and our country.
P.S. Not ready to become a #KeepMarching Leaders, but want to support the moms movement? Yesterday, thousands of MomsRising members in the state turned out to vote. May of them were encouraged to do so through MomsRising's test phone banking program, where a select group of our members outside Virginia made personal phone calls to Virginia members to encourage them to vote. MomsRising plans to roll out this highly successful program to other states in 2018 to get out the #MomsVote, but it will require a significant investment. Make a donation -- anytime between today and Giving Tuesday on Nov. 28th -- and another MomsRising donor will instantly match your gift, turning every $1 you give into $2! Thanks for all you do.