Share Your Story!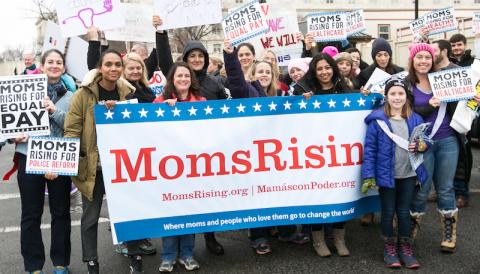 Please tell us: Why do you #keepmarching?
What are you fighting for? Health care for your child? The right to live without fear of gun violence? Ending bigotry?
There's a reason we keep marching, calling, writing.
What's yours?
Share a sentence or two about why you #KeepMarching. We'll showcase your stories online and on-the-ground to inspire other moms, and feature them in our 24 Hours of MomsRising Giving Tuesday celebration Nov. 28!
Our strength is each other. It always has been, and always will be.
By sharing your "why" with others, you help other women and moms come off the sidelines, stay strong, and keep marching for justice, fairness and equality for women and families.
Here are some examples of Why I Keep Marching statements:
"I keep marching because ALL families deserve access to healthcare, a safe community, economic opportunity, and the ability to not just survive, but thrive in the U.S. MomsRising is the best place to help make moms voices heard on these and other issues that matter to moms and kids!"
-- Felicia from North Carolina
"To fight for paid sick days, DC paid family & medical leave, protections for pregnant workers, and economic security for all LGBTQ+ families!"
-- Sara from Washington, D.C.
"Because I want a better world for my Grandson and ALL the children of the world!!!"
-- Donna from Missouri
We'd love to collect 100 comments before Thanksgiving. Share a few words with us right now!
Last week, in all kinds of electoral contests, women won big. We're fired up, energized and organized.
And we're in this for the long haul. We're not stopping until affordable health care coverage is a done deal for ALL families, until lawmakers get serious about protecting our families from gun violence, until we win universal family leave in every state.
Until we get a nation where ALL moms, dads, children and families can thrive.
Can you fuel this movement with the power of your words right now? We can't wait to pump up MOMentum this Giving Tuesday with your stories.
Tell us - why do you keep marching?
We're listening. And we're incredibly grateful for your support.
P.S. Want to support the moms movement right now? Make a donation -- anytime between today and Giving Tuesday on Nov. 28th -- and another MomsRising donor will instantly match your gift, turning every $1 you give into $2! Thanks for all you do.