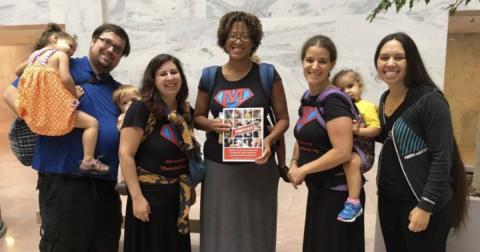 When you take action, we deliver!
One of the most rewarding parts of my job is the opportunity to lift up the voices of moms and families on issues that affect their everyday lives. As a doula and an advocate, the #IPumpedHere  campaign has been particularly near and dear to my heart not only for my own personal struggles with pumping at work, but I saw first hand the struggles many of my clients faced as they tried to balance breastfeeding and returning to work. IPumpedHere works to shine a light on the difficulties many moms face in meeting their breastfeeding goals; basic workplace accommodations and adequate break time to pump when they return to work.
We filled breastmilk storage bags with chocolate candy to represent "liquid gold" and compiled a book full of photos and stories from moms across the country about all the places they have pumped. The powerful storybook represented a tiny sampling of the struggles working moms face trying to meet their breastfeeding goals. We delivered the liquid gold along with the storybook to key lawmakers on Capitol Hill to raise awareness of the insurmountable hurdles moms face when they return to work including the 60% of moms that find themselves pumping in less than ideal places.
The powerful storybook filled with your stories and pictures, the liquid gold, and the moms on the ground made for an incredible afternoon on Capitol Hill. It left an impact on Congress and a splash the media. Check out and share the video we captured below: 
Our work is not done. Help us continue the conversation! 
Share this 
petition link
 with your friends and family on Facebook and by email. If you have not already 
get your #IPumpedHere sticker 
and share your story using #IPumpedHere on Facebook, on Instagram or on Twitter. 
Thank YOU for speaking out and supporting all breastfeeding mothers across the country! Together we can bring mothers out of the bathroom stalls and into the pumping rooms they deserve.