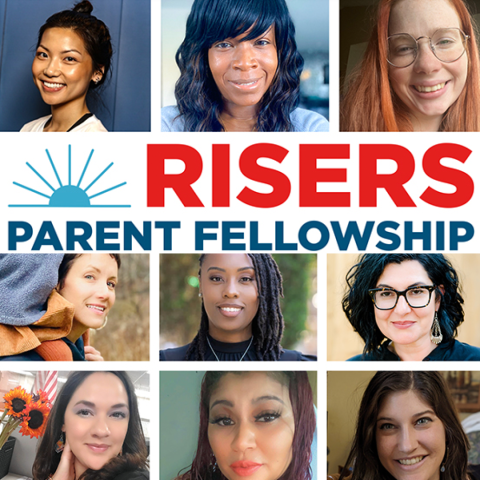 Welcoming the Second Cohort of the RISERS Parent Fellowship
Last year, we launched the RISERS Parent Fellowship, a national fellowship which focuses on early childhood, with the goal of supporting parent leaders and helping them develop their skills as advocates and leaders in their communities to help advance the causes that so many families across the United States struggle with – access to paid leave, child care and other issues affecting families with children ages 0-5.
After a phenomenal first year program, during which our fellows participated in a variety of activities like advocating for gun control after the Uvalde massacre, advocating for paid leave, speaking to the local and national media on a range of topics (in English, Spanish AND Chinese!), rallying on Capitol Hill for child care and so much more, we're doing it again! 
This year's RISERS fellows will continue working on shedding a spotlight on what parents experience as they navigate taking care of their families. A year after the RISERS fellowship launched, we are still facing challenges: Child care solutions and other care priorities  did not pass through Congress, and investments for families have fallen short, despite the clear need for family friendly policies and investments in care infrastructure that supports care from birth. 
There is no doubt early learning issues like child care, universal pre-k and maternal mental health are front and center. Our elected leaders and policymakers can't ignore us anymore! That's why we are excited to continue supporting mom leaders to grow into their power and sharpen their leadership skills. 
We are excited to bring together a diverse group from 11 states (and a military base abroad!) to join us for another year of our RISERS fellowship.  This group includes dedicated parents and caregivers from all walks of life who represent the diversity that makes the United States special. It  brings many life experiences together: parents and caregivers from urban, suburban and rural areas representing diverse backgrounds and voices, some are self-employed, some are small business owners, some are educators, some work in corporate America….they come from red states, blue states, and purple states… some are immigrants, some are first generation Americans, some have been here for generations… all bring unique experiences and perspectives, but they all have one goal: to lift up the issues that impact families with young children.  This year's cohort includes child care providers who can share their insight on the challenges that families, and the child care sector in particular, are facing in this moment of crisis. 
Without further ado, here are this year's RISERS Fellows:
Alicia, West Virginia

Allie, Florida

Azalea, Arizona

Danielle, New York 

Genevieve, Military FPO, (Japan) 

Juliana, Texas 

Mandy, New York 

Maria, Utah

Meghan, Tennessee

Monica, California

Natasha, Florida

Nicole, Vermont 

Paola, North Carolina
Learn more about the RISERS fellowship here
***
As we plan the next year of our child care work and increase our pressure to get solutions to the ongoing crisis, we need to hear from you: what are your child needs right now? How are you planning your child care and aftercare for the new school year? Are you struggling to pay for child care?  Do you have a pre-k you love? Has your child not been able to secure a pre-k spot? Are they experiencing long waitlists or staffing issues? We want to know all of it, so we can let legislators know: child care is still a struggle and we need them to invest in child care. Share your story with us here.