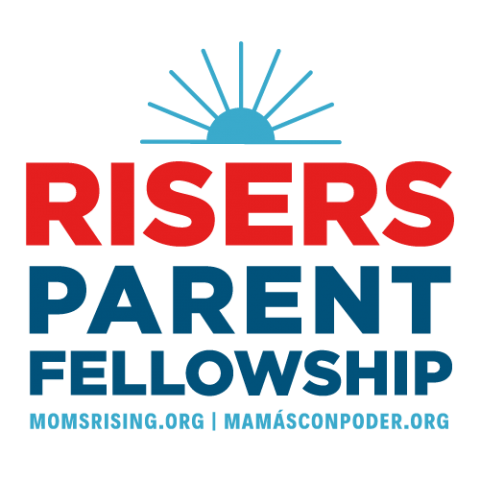 The RISERS National Parent Fellowship  
This is a monumental time for early childhood issues we have been advocating for at MomsRising/MamásConPoder. As of this writing, the Build Back Better package is moving through Congress, which includes affordable child care and universal pre-k for three and four year olds, paid family medical leave, and an expanded child tax credit and earned income tax credit. We know that this historic momentum is happening thanks to parents and caregivers who are raising their voices all over the nation, including many of our very own MomsRising members who have shared their stories, called, texted and testified in Congress.  Because of their leadership, we are close to achieving giant wins for families!
Moms' voices are powerful and that's why we are excited to announce that MomsRising/MamásConPoder are launching the RISERS National Fellowship parent leadership program. 
The Risers National Fellowship will focus on early childhood -- issues like child care, maternal health, and more-- to accelerate the momentum we currently have and to build the power of these extraordinary moms and advocates who will be participating in this fellowship. 
The 20 RISERS Fellows who will take part in the inaugural RISERS cohort represent 15 states. This group includes extraordinary parents and leaders from all walks of life who represent the diversity in the United States. All bring unique experiences and perspectives: some are students, some are immigrant parents, some live in big cities, some in suburbs… but they all have one thing in common: they are passionate about helping lift up the issues that impact families with small children.  This year's RISERS Fellows are: 
Bobbi Linskens, Pennsylvania

Caroline Pharr, Montana

Clara Vazquez, Washington 

Gina Apgar, Maine 

Heather Reagan, Florida

Ivonne Limongi, Virginia

Jacqueline Sealey, New York 

Jessica Honza, Minnesota 

Julie Groce, Michigan 

Katherine Walden, North Carolina 

Kelly Newman, New Jersey 

Lupe Mendoza, Washington 

Nava Renaud, Michigan

Patty Liu, Washington 

Saleena Rice, North Carolina 

Sarah Fox, New Hampshire

Stephanie Blake, New York 

Te'Jal Cartwright, Ohio

Tiffany Yang, Arkansas

To-Wen Tseng, California
Our extraordinary fellows are working in their own communities, sharing their stories, advocating for families and we're excited to work with them to help make our nation better for babies, kids, families, and our communities. We know that the best solutions to the issues impacting families are generated by those who experience them daily; that's why we are so excited that we will be working with these powerful advocates!