We Are MomsRising!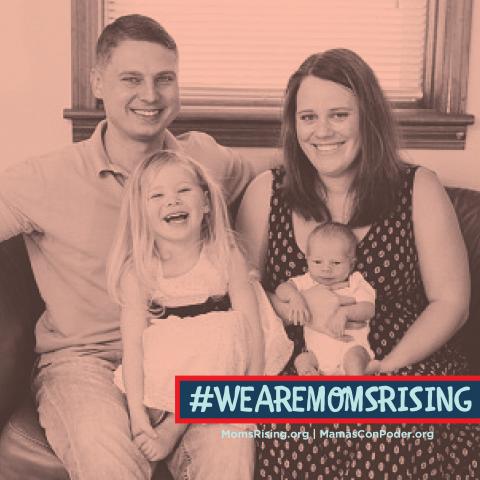 We Are MomsRising, Rebecca from New Hampshire
In today's installment of We Are MomsRising, we talked to Rebecca in New Hampshire about celebrating National Breastfeeding Awareness Month. Read her story below. To learn more about the We Are MomsRising campaign, check out this blog post. To learn more about National Breastfeeding Awareness Month, check out this link. 
All moms need more support and less judgment because raising tiny humans is just hard. I am a working mom of two that has experienced both success and failure with breastfeeding. My firm belief is that the overwhelming factor in my divergent experiences was the role of maternal support and patient advocacy.
The birth of my firstborn was traumatic. She came weeks early, my labor was intense and unmedicated, and we both suffered complications. During labor and after, I felt overwhelmed, lost, and unsupported. There was a strong pressure to breastfeed by hospital staff but in the end, abstract pressure alone could not create the environment in which breastfeeding was successful. I left the hospital feeling defeated and that I had failed at the first thing that should come natural to a mom.
And honestly, I carried that sense of guilt for years.
Fast forward almost four years to the birth of my son. This time around, I was determined to make sure that I had an advocate for myself, for my baby, and for our needs. While I trusted my OBGYN and I have a supporting partner – I knew I wanted someone dedicated and present during my entire labor and delivery that understood my needs and could act as a conduit for those needs to hospital staff. For that reason, I hired a doula and made sure my OBGYN and hospital staff were on board with her presence. My doula and the hospital staff worked as a team and my second labor experience was the opposite of my first. I felt connected to staff, respected, and supported. 
I was successful at breastfeeding my second-born not because I magically became a more intuitive mother – but rather because those around me offered concrete supports without judgement. Supports included simple things like teaching me how to hand express and spoon feed my newborn that couldn't latch, extending to more complex supports like identifying his tongue tie and referring us to a specialist to talk with me about options. These supports continued as I went home with my newborn in the form of a visiting nurse and repeated calls with a lactation consultant.
Breastfeeding my second baby has opened my eyes to a different world of challenges that I did not experience with my first (like sexual harassment when I am feeding and the utter lack of safe and clean public spaces to nurse or pump). It has also made me realize that to be an advocate for breastfeeding, you first have to be an advocate for all moms. What I learned from my [breastfeeding] experiences is that it is all hard and all moms (breastfeeding or not) deserve respect and supports that actually help. Without broader maternal support, for first-time moms or moms of many, we cannot expect breastfeeding success to be the norm.
I want to say to all the moms out there (and to that first-time mom version of myself) – I see you, I hear you and I support you. You are more than enough.