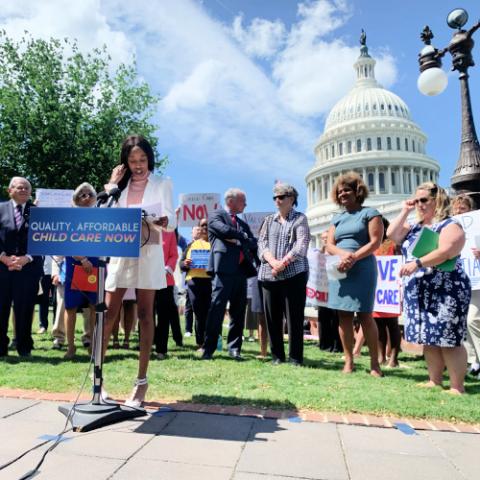 The First National RISERS Fellowship Wraps Up
In November 2021, we launched the National RISERS fellowship program with a group of 20 moms from 15 states with the goal of building the power of these extraordinary moms and advocates. 
The RISERS fellows spent months developing their leadership skills and learning about power building and organizing and a wide array of advocacy tools. During that time, they also participated in a variety of actions engaging with lawmakers at local, state and national levels. 
Here is some feedback from our fellows: 
"I joined not knowing 100% what was going to come out of it and I left feeling much more prepared to talk and debate issues. I feel very empowered by the group."
"The Risers fellowship allowed each of us to build a network of other parent activists who were inspiring us and cheering us on. We created a support system of moms going through the same struggles and empowering each other to keep fighting."
"This fellowship was an amazing experience where I got to connect with and work with many wonderful women.  It was energizing and opened my eyes to the power we all have to create the change we need!"
If I had to wrap up the fellowship in three words I would say: power-building, action and sisterhood. 
Here is a bit more about what the fellows were up to throughout the session:
POWER BUILDING! 
The fellows spent time learning practical tips and tools that would help them be better advocates. They worked to hone their storytelling skills, practiced and perfected their interview skills. They learned about leading with purpose. We also talked about what getting an action off the ground looks like, especially now during a pandemic. 
Our Fellows are contacting their lawmakers, encouraging their neighbors and community leaders to get involved in local and national advocacy, and more! 
SISTERHOOD
Being a parent advocate isn't always easy– there are so many feelings that we go through– what brings us all together is that  we are advocating to improve the lives of our children and families– it is incredibly powerful to know that "I am not alone" in this experience. 
It is also very important to understand that if so many of us are struggling with things like child care, or health care costs or maternal health, it is because there are structural barriers that make it harder for us to be mothers. 
This is why sisterhood and fellowship are so instrumental in our power building work– especially at a moment when so many of our rights are being taken away, and we are fighting for our most basic needs and rights. 
Being a parent right now, can be especially daunting and scary– being in sisterhood and taking time (which we as moms often do not take) for ourselves to process together, and recognize how hard it is, how tired we are– being in community– helps us grieve, process, heal and keep going, and that was a big part of the RISERS fellowship. 
ACTION! 
Our fellows are helping inform advocacy in many ways in their communities: They are joining coalitions of other parent leaders, helping inform advocacy in a multitude of ways… they are sharing their stories, writing postcards and letters, connecting with families in their communities, and MORE! Here are some of the actions they've taken: 
Showed our Child Care providers some LOVE: To-Wen from California used art to tell early educators how much they are loved. You can check out her activity here. 
Joined the MOMibuster! Many of our Fellows participated in the amazing MOMibuster that MomsRising put together for Mother's Day!  
Talked to Media! Patty from Washington shared why it was important for her to be part of the MOMibuster on MSNBC! 
"The fact that there isn't enough infrastructure to support those families...is disgraceful" Patty Liu mom of two and supporter of @MomsRising's "MOMibuster" talks to @yasminv about advocating for parental care infrastructure at the federal level. pic.twitter.com/dFV1Wk57wI

— Katy Tur Reports (@KatyOnMSNBC) May 6, 2022
Wrote letters to the editor! Stephanie from the Bronx shared her child care struggles in The Bronx Times and asked her NYS lawmakers to invest in childcare for all. 
Advocated for many issues like voting rights:  Nava from Michigan share why voter suppression is dangerous and how it hurts families:
"I think that's done intentionally knowing that groups who traditionally vote for the rights of the working class–if you do things that make it harder for them to reach the ballot, then obviously their interests are going to be less represented."  
Went to Capitol Hill! Jacqueline (and her adorable baby) from Niagara Falls, NY went to Capitol Hill to share her child care struggles with members of Congress. 
Our incredible mom from NY Jackie speaks on living paycheck to paycheck & the need for families to have high-quality, affordable child care at Capitol Hill: "I'm counting on Congress to not leave families behind and to invest in child care so we all can thrive." #SolveChildCare pic.twitter.com/Y7btuBQcDK — MomsRising (@MomsRising) June 9, 2022
Met with their Senators: Ivonne from Virginia met with Senator Kaine to discuss child care.
Celebrated LGBTQ Pride: Kelly from New Jersey participated in a roundtable with Family Values at Work for Pride Month 
She also shared this beautiful story about her child, Cha. "Beyond the Binary, All About Cha." 
Advocated for gun control: Most recently, and after the mass shooting in Uvalde, some of our fellows in multiple states mobilized to create a handwritten letter writing campaign to ask Senators to act on gun control legislation. 
…AND MORE! 
Thank you to our first cohort of the National RISERS fellowship! Our first RISERS fellowships is a WRAP but these fellows are just getting started… and I can't wait to see what their powerful voices accomplish and how they inspire other moms to get involved!
Want to get involved with MomsRising and learn more about fellowships? Make sure you're getting our emails! 
Take one action today to tell Congress: we need investments in child care! Sign here to tell Senator Schumer to ensure that child care is in the reconciliation package. 
Have you experienced hardship finding affordable child care in your area? Have you been pushed out of the workforce due to lack of child care? Share your story with us!