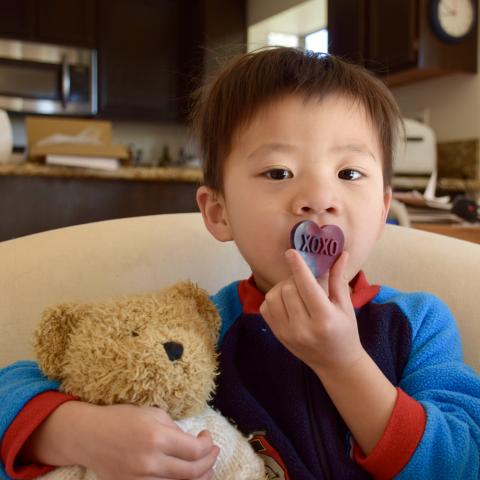 This Valentine's Day, Show Some LOVE to Your Child Care Providers
There are three things I do every Valentine's Day: Go on a lunch date with my husband, do some Valentine's Day crafts with my two children, and send out cards to people I love, including family and friends. This Valentine's Day, I'm doing one more thing: showing love to the teachers and staff members at the daycare center that my 4-year-old currently goes to.
The pandemic wave has made it clear that our child care needs a systemic overhaul. Parents of kids under 5 are now in a state of despair and semi-panic, and part of our upset is the fact that the expensive child care we are paying for is often unreliable: Children's day care classes are routinely getting shut down because of too many coronavirus cases or because kids were getting sent home for quarantines.
In the meantime, things are just as bleak from child care providers' point of view. Last two months in my child's day care center, there were five kids and six staff members tested positive for the coronavirus, and three out of the seven classrooms were closed at some point. A teacher I know told me that it breaks their hearts to close a classroom, because they worry about how the families they serve are going to pay their bills and feed their kids if the parents can't go to work.
Though a lot of problems with American child care are systemic and in need of an overhaul, there are smaller fixes that can be made right now. One thing is to pay staff members more. Even before the pandemic, staff turnover was a huge problem in the child care industry. That problem has become even worse over the past two years. Workers are leaving the industry for bigger corporations like Starbucks or Amazon, according to CNBC. If there's already a staffing crunch, the situation becomes only more unworkable when staffers are sick.
As a parent who appreciates my child's daycare teachers more than anything else, I feel it's high time for us to show some love to our early educators. This Valentine's Day, I'm shouting for fair wages and paid time off for my daycare teachers. I'm also making rainbow crayons with my children (recipe below); we are sending these home-made crayons to the daycare center and telling the staff members: You paint bright futures! We appreciate you, love you, and are pledged to fight for better wages for you.
How to make rainbow crayons:
Invite the children to collect any broken or stubby crayons scattered around the house and/or in their own pencil boxes, and peel off the crayon wrappers.
Prepare a cake mold (I recommend silicone molds for easier unmolding), and let the child fill the broken crayons into the mold.
Preheat the oven to 250F, put the cake mold filled with crayons into the oven and bake to melt the crayons. The baking time varies slightly depending on the power of the oven, the brand of the crayon, and the color. Check it after 20 minutes of baking. If it is not completely melted, bake for another 10 minutes.
After the crayon is completely melted, carefully remove the cake mold from the oven (caution: hot wax inside!)
Allow crayons to re-set at room temperature, then remove from mold. Homemade rainbow crayons are done!