Take Action!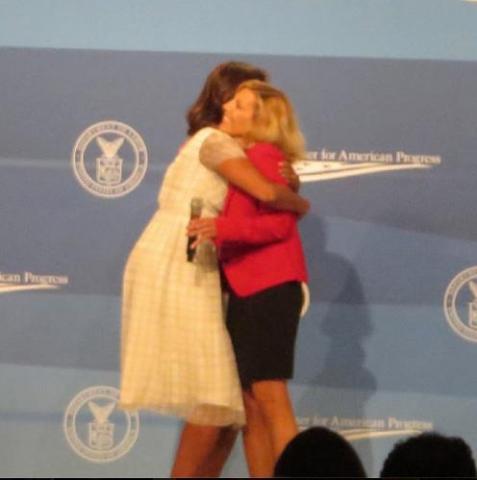 Sign our thank you card to keep the MOMentum going!
Do you have a second to sign a very important thank you card to the White House? Click here to sign on to the thank you card now: http://action.momsrising.org/sign/WH_Summit_thanks/
Why the card? Well, we (and you) just had a… drumroll please…. MAJOR VICTORY! Many of MomsRising.org's top policy priorities and members were just prominently featured at the White House Summit on Working Families on Monday.  
MomsRising member Shay Chan Hodges' story is featured onscreen at the Summit. 
Never in our wildest dreams did we imagine that what happened on Monday at the Summit could ever happen. From our launch in 2006, MomsRising members (you!) have been pushing via email, snail mail, phone, text, blogs, Facebook, Twitter, local meetings, and more for national leaders to address the need for childcare, fair pay, paid family leave & sick days, and increased minimum wage. 
And it just happened! The White House just held the first ever Summit on this very same set of issues. You were heard! 
Your voice, including that 5 seconds you take to click a link in an email, played a major role in making this happen. Now, we need to make sure that the President, the rest of the administration, and Congress know that America's moms and dads thank them for putting these policies in the spotlight -- and also want to keep this agenda for families moving forward!
*Join me in signing a thank you card to the White House to say: Thank you for listening to the voices of moms and putting the need for affordable childcare, fair pay, paid family leave & sick days and increased minimum wage in the national spotlight. These policies are needed to boost our families and our economy. We are behind you all the way to move these policies forward!
Sign the card here: http://action.momsrising.org/sign/WH_Summit_thanks/
As you can tell, we were beyond delighted that the set of policy priorities which MomsRising (you again!) has been pushing since our inception (childcare, fair pay, paid family leave & sick days, and increased minimum wage) were addressed throughout the Summit, including by President Barack Obama, Vice President Joe Biden, First Lady Michelle Obama, and Second Lady Dr. Jill Biden, and many others, including even Mad Men star Christina Hendricks.
It's also a testament to your work that MomsRising.org was included throughout the Summit, including in many speaking roles (I spoke along with a MomsRising.org member who shared her story--and one of our members even introduced the First Lady!). Many of our members were part of the Summit too, by attending in-person and via our book of over 1,000 member stories, as well as via kites that were sent in from MomsRising.org members from Maine to Hawaii and everywhere in between that were decorated with quotes about the public policies that are needed to boost families and our economy.  
Senator Ben Cardin holds MomsRising's book of member stories, delivered by Senior Campaign Director Ruth Martin and MomsRising members and kids.
We brought those stories and those kites with messages along with us to the Summit, and then we also delivered your messages, kites, and stories to Congress the next morning urging them to keep the momentum going by lifting our families and economy through the passage of public policies. 
Moms are a powerful force. And now that our top priority policies are in the public eye, MOMentum is growing.
*Don't forget to take a quick moment to thank the White House for building that MOMentum. You can sign the card here: http://action.momsrising.org/sign/WH_Summit_thanks/
Please also take a moment to forward this email to friends and family, as well as to post the action link on Facebook and Twitter. The more people who sign on, the bigger the impact we'll have together.
And, most importantly: Thank you for speaking out to build a nation where both families and businesses can thrive!
You are powerful!
P.S. Here's the White House blogpost, including great pictures of MomsRising members wearing their black t-shirts with the red Super M, recapping the Summit.
P.P.S.  Check out this video from our member, Martina, talking about her experience of sharing her story and introducing the First Lady at the Summit!