S: Sick Days, Paid
MomsRising members share their personal stories about why paid sick days are important to their families. Click here to download your copy of the booklet.
Can you believe it? Nearly half (48%) of private-sector workers—And a whopping 78% of food and public accommodation workers are denied even a single paid sick day.
This means that people are often forced to choose between working sick and losing pay - or even their jobs. Centers for Disease Control and Prevention recommends staying home when we're sick with common illnesses like the flu, and keeping sick children out of school5. Workers without paid sick days don't have that option, and we all risk getting sick.
Over 145 countries have recognized the problem, and have paid sick leave. The U.S. isn't one of those countries. That's why MomsRising.org is working to make sure that everyone has the ability to earn paid sick days.
Desiree's story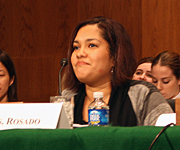 All three of my children were sick this fall, so in all, I missed about two weeks of work to care for my kids.
I get no sick pay, so my paycheck for that period was almost nothing. That caused tremendous hardship for my family. My husband and I live paycheck-to-paycheck right now. We have no choice.
We are trying to pay down debts and make our family financially stable, but it's a hard road. And it's made harder because whenever we get sick or our children get sick, we have to decide whether to stay home without pay, or to disregard doctor's orders and risk getting sicker and infecting others by going to work or school.
Share your experience: do you have paid sick days? If not, what impact has that had on your family? If so, how do they help?
Know the Facts
More than half of the workforce does not have or cannot use paid sick days to care for sick children.
A recent national poll found that 89 percent of voters – 83 percent of Republicans and 94 percent of Democrats – favor paid sick days as a basic employment standard
"Presenteeism" - coming to work sick - costs our national economy $160 billion annually in lost productivity. For employers, this costs an average of $255 per employee per year and exceeds the cost of absenteeism and medical and disability benefits.
The industries that employ the most women—retail trade, accommodations and food service— are the least likely to offer paid sick days. Half (55%) of retail workers and three -fourths (78%) of accommodations and food service workers are without paid sick days.
Among Latino and African American voters polled, nearly one in six (16%) reported that they or a family member had been fired or penalized for taking sick time.