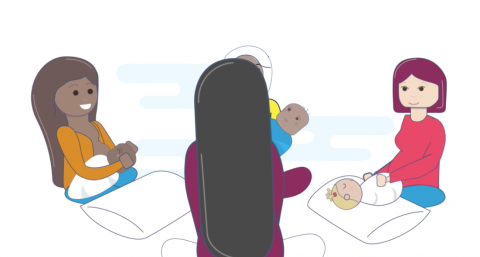 Real Life, Real Support for Breastfeeding Moms
Throughout the month of August, MomsRising has been celebrating National Breastfeeding Month and this week (August 25-31) we are delighted to celebrate Black Breastfeeding Week.  Black Breastfeeding Week is a national awareness campaign promoting and celebrating Black breastfeeding families.  This year's theme, #LoveOnTop, speaks to how love encompasses everything black parents do from breastfeeding to nurturing others.
As I participated in Black Breastfeeding Week events over the weekend, I was inspired and humbled joining in community and celebrating together.  Hearing each mothers' story the struggles and the joys, but all fighting to do what was best for their babies.  
While feeling overwhelmed by the love and the joy, I was simultaneously saddened as I heard story after story of the barriers that black families face in meeting their breastfeeding goals.  The reality it is that while the majority of moms want and start out breastfeeding, many stop sooner than they'd like and struggle to meet their breastfeeding goals. 
That's part of why we made this new video about and for moms.  
Check it out and share it too! Together we can help break down the barriers the breastfeeding families face.
We know those first few days and weeks with baby are incredibly hard and the challenges are real.  Our video highlights stories we hear everyday from members like you about the difficulties they have meeting their breastfeeding goals!
Here's the deal: While 4 out of 5 U.S. mothers start out breastfeeding, but less than half are still breastfeeding at 6 months postpartum. Moms of color struggle even more. Breastfeeding initiation rates for for African American moms are significantly lower than breastfeeding rates for other moms in almost half of the country and the disparity widens to by 25% in 7 states.
Why are so many women falling short of meeting their personal breastfeeding goals and recommendations of public health professionals? The moms I met over the weekend shared the reasons over and over again: 
Lack of access to paid family and medical leave
Lack of lactation support and education
Lack of workplace accommodations 
Right now, 1 in 4 women is back at work within two weeks of giving birth because they cannot afford to take any additional unpaid time away. As a result, new moms are back at work before they've been able to recover from giving birth and before they've been able to establish breastfeeding routines. 
When encountering difficulties breastfeeding, many moms may seek support and guidance from lactation professionals, but for low-income women these supports are often inaccessible and unaffordable, even with limited healthcare coverage. not to mention that the Congress' constant back and forth about healthcare coverage leaves a question as to whether coverage is at risk.
Finally, once breastfeeding mothers return to work they face another set of challenges: lack of clean and private spaces to express breast milk and inadequate places to store that liquid gold. The Affordable Care Act requires some employers to provide hourly wage-earning and some salaried employees (nonexempt workers) with "reasonable break time" and a private, non-bathroom place to express breast milk during the workday, up until the child's first birthday. While this protects and supports the most vulnerable of workers, this distinction in the law unintentionally excludes "exempt" or salaried employees, causing significant confusion.  In fact, right now 60% of working moms in the United States find themselves pumping in inadequate and even unsanitary places on the job.
These barriers contribute to increasing health disparities leaving communities of color particularly vulnerable. It leaves black and hispanic children at a greater risk for childhood disease and the inability to exclusively breastfeed for the recommended six months has been attributed to twice as many deaths and three times as many in childhood diseases in black infants.
Check out and share our video that highlights the difficulties moms have meeting their breastfeeding goals.
The good news is there is a solution!  There are public policies that can help break down these barriers and empower moms to meet their breastfeeding goals.  Public policy solutions like paid family and medical leave, ensuring that all moms have access to lactation support, education and supplies and workplace accommodations to express breastmilk.  Enacting a comprehensive paid family and medical leave policy will ensure that moms, babies, and partners have the opportunity to heal, bond and set them off on a great start in their breastfeeding journey.  Making sure that when breastfeeding moms encounter difficulties, they have access to lactation support, education and supplies is key to breastfeeding success.  Once she returns to work we want to ensure that she has adequate break time and a private space to pump so that she can continue to breastfeed.
Breastfeeding isn't just good for moms and babies, it's also good for the economy! Recent studies have shown if mothers could meet current medical recommendations for breastfeeding it would save the US economy nearly $13 billion per year in paediatric health costs and premature deaths.  And when 3/4 of the moms are primary or co-breadwinners, we must close the gap in existing laws and expand protections for all breastfeeding mothers.
Take a peek now and share our video!
Together we can overcome many barriers to breastfeeding!