Take Action!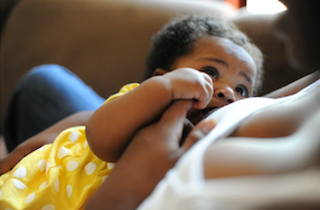 QUICK SIGNATURE: Urge formula companies to put the health of moms & babes above profits!
Shocked. Infuriated. Dismayed. I went through the range of emotions when I heard about the United States' opposition to a resolution supporting breastfeeding at the United Nations affiliated World Health Assembly.  Once again, in this Administration, corporate interests are being put front and center ahead of babies and families. We can, and we must, do better!
→ Tell formula companies to back off because the health and well-being of moms and babes must always come first.
Earlier this week, The New York Times published a stunning piece detailing how in May, the Trump Administration attempted to weaken a resolution at the World Health Assembly that was meant to "protect, promote, and support breastfeeding."  Not only did they seek to water down the language, but they threatened (yes, threatened!) Ecuador, the proposing country, with sanctions and withdrawal of military aid.
The Trump Administration resorted to strong-armed tactics in opposition to breastfeeding in order to side with the multi-billion-dollar infant formula industry over the world's moms and babies. You read that right: Corporate interests and influence were prioritized over public health recommendations that are universally supported by doctors.
Thankfully, the Administration's shameful attempts were unsuccessful -- thanks to an intervention by Russia (!!!) -- but this is not OK!
→ Formula companies and the baby food industry must be held accountable.  Tell them that public health must always be prioritized.
Let's be clear: Even though doctors say that breastfeeding is best, not everyone can breastfeed or chooses to breastfeed. Therefore, access to formula should never be comprised. But breastmilk and formula are unique in that they are the first sources of nutrition we offer our babies.  
→ Corporate interests, enforced by bullying tactics, should never be put ahead of public health policy decisions regarding those critical first foods.
The Trump administration's constant attacks on children's health and safety are relentless, unprecedented, and inexcusable. Just in the past few weeks, the administration and its allies have separated asylum-seeking parents from their children; tried to cut SNAP (formerly called food stamps) even though 1 in 4 children in our nation live in food-insecure households; and disgraced our country with its baseless opposition to breastfeeding, which doctors universally say is best for babies and moms.
At MomsRising we are fighting back against all of these attacks on children and now we're fighting back against attacks on breastfeeding.
→ ACT NOW - Let the baby food industry know that we will not stand idly by and let them continue to put the health of moms and babes in jeopardy by lobbying against breastfeeding.
The benefits of breastfeeding are tremendous. Breastfeeding helps protect babies from illness and helps moms heal following childbirth. Breastfeeding also leads to a lower risk of type 2 diabetes and certain types of breast and ovarian cancer. Breastfeeding isn't just good for moms and babies; it's also good for our country's physical and economic health. Recent studies have shown if mothers could meet current medical recommendations for breastfeeding, we would save nearly $13 billion per year in pediatric health costs and premature deaths.
Sign our letter now urging formula companies to stop putting the health of mothers and babies in jeopardy by lobbying against public health efforts!
*****Take action now and be sure to share this email or link below with your friends and family so they can take action too.
https://action.momsrising.org/sign/WHA_Breastfeeding/?t=blog