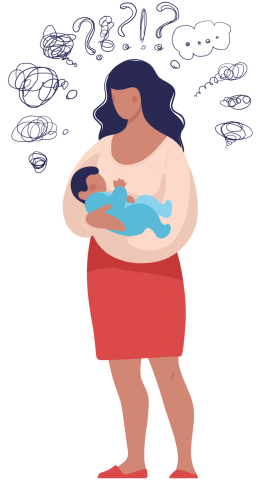 How friends, family, teachers and other caregivers can support new mothers
Developed by Lina Acosta Sandaal, MA, LMFT
MomsRising consultant and expert in child and adolescent development and infant and early childhood mental health
Perinatal and postpartum disorders are extremely common in women during pregnancy and after they give birth.  While there is information out there around maternal mental health  it's not nearly enough. Studies show that one in seven women in the United States will suffer from a Perinatal and/or postpartum disorder.  It is as common as gestational diabetes and it's sad that we don't talk about it as much as we should. One huge reason for the lack of information is the bias and myth that mothers automatically bond with an infant.  If you don't have that experience you're not a "good" enough mother. But like all myths it is not based on fact and only based on wishful thinking. 
In an effort to ensure moms and their families get the information they need, MomsRising has partnered with me on these important points to keep in mind as it pertains to perinatal and postpartum disorders:
What the general public and parents imagine the risks are to Perinatal and Postpartum Disorder - Myths:
Parent is sad and crying constantly
Parent can't get up or function at all
It only happens in the first few months after child's birth
They did something wrong to feel how they are feeling
Parent will hurt the child
Parent does not love the child
Parent will abandon the child
Parent is uneducated and irresponsible
What most parent define as their symptoms - Reality:
Not feeling like themselves
Loss of appetite
Problems with Sleep
Overwhelming fatigue "don't have any energy"
Difficulty bonding with baby
Severe Mood Swings
Lack of joy and guilt that they are not enjoying their new baby
Feelings of shame for not "being a good enough parent"
Isolating and withdrawing from spending time with friends and family
Thoughts of harming themselves or their baby
Overview of Risk Factors for Perinatal and Postpartum Disorders:
Previous mental health diagnosis
Health condition with baby- Parents with a baby in the NICU are 40% more likely to experience a postpartum disorder
Perfectionistic personality style
Low socioeconomic status and stressors inherent in the systemic issues of low socio-economic status
Child abuse history
Domestic violence
Partner/Relational problems
Limited social support
Social Isolation
Family history of Psychiatric Illness
Sleep Deprivation
Sleep and Perinatal and Postpartum Disorders
Sleep is passed off as a normal consequence of pregnancy and birth.  This causes professionals and family members to miss out on helping parents manage and avoid sleep deprivation which is a key prevention, as well as, risk factor to postpartum disorders.  
Here are sleep tips for when baby arrives:
Realistic and accurate discussion/education for parents during pregnancy & with respect to breastfeeding
Sharing of responsibilities with partner/support system
Parent''s health/sleep prioritized for overall health
Time outdoors each day to help regulate circadian rhythm
Therapeutic interventions: pharmacologic, deep breathing/progressive muscle relaxation
STOP debating whether to Co-Sleep vs. Baby Sleeping in Crib alone it is best to  let family decide what is best to their unique needs - Sleep research does not have enough evidence for either sleeping habit, hence best practice is to allow family to decide
If you're a loved one, partner or teacher keep this in mind when you speak to a parent and try to help them seek assistance.  Address both positive and negative associations.
Positive associations of parents who seek help:
All mental health professionals know how to diagnose- not all professionals, guide them to finding professionals trained in maternal mental health
Their doctors will know how to help them and refer them to the right professional -not all know who to refer to,  help them speak to their doctors to get referrals and information in the community who do know how to assist
Treatment is covered by health insurance - not all insurance companies pay for treatment- help them find local organizations that guide parents in finding free, reduced help
It won't take long - if caught early this can be true for most parents
Negative associations of parents thinking of seeking help:
They will be judged - address this fear by letting them know that those who judge are not well versed in the subject and they should avoid or ignore
They will be in jeopardy of losing their children - speak to the myth of this and how seeking help actually proves they are caring for their child
They are weak or "bad parents if they seek assistance"- speak to the myth of the parent having to do the work alone.  Let them know that parenting is done within a family within a community
It will go away on its own if they try hard enough to change- no it actually gets worse not better with time
Medication is dangerous - multiple studies not show that medication outcomes and assistance outweighs the complications of not taking any medicatiom
Treatments tested to work best for Perinatal and Postpartum Disorders:
Medications
Psychotherapy (Cognitive Behavioral Therapy, Interpersonal Therapy) adapted for perinatal and home visitation
Mindfulness and Yoga
Circadian (light), Sleep and exercise
Centering  / Peer support programs like those offered by Postpartum Support International
As a friend, family member, school community, or  neighbor, how can I help?
Ask the parents how they are doing 
Offer to help with baby while parents sleep/rest
Create Awareness – tell stories. Tell your story if you suffered through perinatal or postpartum complications
Speak openly at pediatric and OBGyn visits. Ask for more support
Create a peer support group and/or parenting workshops at your early childhood center where parents are welcome to learn and discuss their experiences with their parenting journey and/or parenting difficulties
In early childhood centers have pamphlets and information out and available for parents to read and learn from
Join social media campaigns that build and increment awareness
Join the national movements and take action with MomsRising, Blue Dot Project, Maternal Mental Health Week, 4th Trimester Project)
The good news is that when we talk about postpartum disorders whether it's anxiety or depression we know that it could be treated and parent and baby will be okay as long as there is support in place. Parenting is not to be taken on alone.  Your parenting journey will flourish in community and with support.