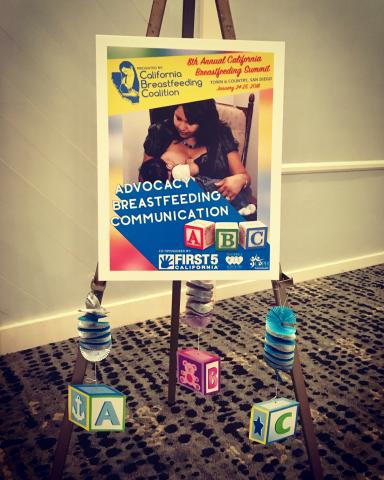 CA Breastfeeding Summit 2018 Recap Day 2
The second day of the the 8th Annual California Breastfeeding Summit on Advocacy, Breastfeeding, and Communications!  Today, I cried, I learned, I laughed, and I danced.  Like yesterday's recap, I attempted to capture some of the conversations and will share a few snippets.
Camie Goldhammer, MSW, LICSW, IBCLC shares her work in her presentation - Culture, Trauma and Breastfeeding: How it is all Connected.  Camie's journey through birth and breastfeeding stirs everything in me like a surge of oxytocin.  She stresses that we must gain a better understanding of how is trauma passed to from generation to generation.  Camie stresses that we can't talk about single motherhood without also talking about the prison industrial complex; that we can't talk about poverty without also talking about red-lining.  When we think about how we can best support families who have experienced trauma, Camie reminds us to be present, to validate, and to ensure that families feel loved and cared for.  The love and emotional wave that flowed through the 500 participants in the room closed with such simplicity - go there!
Peter Cardellichio, Associate Director with Global Health Media Project shared how videos could be used to provide breastfeeding education.  It is estimated that the videos produced by Global Health Media Project are viewed by at least 50 people every minutes from around the world and shares how these educational videos can be an effective teaching tool in support.  After watching the first video I am sold!  Nothing replaces seeing those first few moments between mom and baby to understand early latch.
California has recently expanded several laws benefiting new parents including paid leave and workplace accommodations for pregnant and breastfeeding moms.  This is such fantastic news for new and expecting parents.  Nationally, only 15% of US workers have access to paid family and medical leave which is why 1 in 4 new mothers is back at work within 10 days of having a baby.  And 60% of pumping women do not have access to basic workplace accomodations or adequate breaktime to express breastmilk.  Julia Parish, Legal Aid at Work walked through how the new California laws affects the workplace rights of pregnant workers and new parents.  California breastfeeding mothers are covered in three different ways.  Through the Affordable Care Act,  new state law that covers all employees and San Francisco employees have additional clarification and enforcement laws. Legal Aid at Work is a phenomenal resource.  If you are an expecting parent or breastfeeding mom in California, please reach out to them and know your rights!
Gina Marie Buccolo, IBCLC held a fantastic conversation on providing inclusive care for LGBTQI families and shared some great resources.  Two that I plan to check out is "Where's the Mother?" by Trevor MacDonald and a blog series from lesbian co-nursing called Lesbian Mommies.
With the influx of laws legalizing recreational and medicinal marijuana, I see a lot of providers and caregivers struggling to advise breastfeeding moms about marijuana use.  Kerri Bertrand's presentation entitled The Roll Up: Marijuana Use & Breastfeeding Moms gave an overview of the landscape of what information is currently available for practitioners.  Currently we know that a lot of practitioners are working with moms utilizing marijuana while breastfeeding and that THC content present in marijuana has increased to approximately 20-25%.  The American Academy of Pediatrics has issued guidelines.  Much of the data analyzed came from Mommy's Milk Human Milk Research Biorepository, but the one thing that was was clear from Bertand's presentation is that when it comes to marijuana and #breastfeeding, we need more data.  
The best way to wrap up the 8th Annual California Breastfeeding Summit was with Mona Liza Hamlin, Chair United States Breastfeeding Committee.  Hamlin laid out the landscape through her presentation on the Future of Breastfeeding Promotion and Support in the Current Political Environment.  USBC is not only a great resource, but a great avenue that allows for collaboration as we working towards achieving equity.
Check out my recap from Day 1 and don't forget to visit the the California Breastfeeding Coalition's website for more information on the Summit and the great work they do.  Revisit the conversations on Twitter and Facebook using #CABFSummit18.