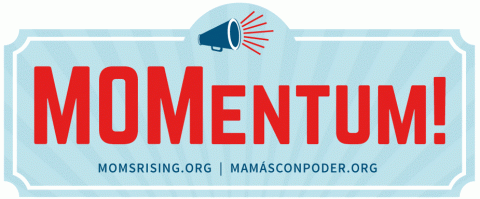 Breastfeeding WIN ~ Postcard surge ~ Your July MOMentum
Summer is flying by and our MomsVote program is rocketing forward! Your enthusiasm for the MomsRising postcard program means that over 700,000 mom voters will receive a handwritten note of encouragement for them to vote! Let's keep up the MOMentum and we WILL make it to 1 million postcards! Check out the update on our postcard progress below, as well as more good news.
Thank you for being part of the MomsRising movement.
---
BREASTFEEDING WIN

Photo by Garrett Jackson on Unsplash
Your stories work!
Just last week, the American Academy of Pediatrics stopped recommending temporary separation of infants from their mothers with COVID-19 — instead stating that "babies are at low risk of becoming infected when they remain in-room with the mother after birth, if infection control practices are used."
This is one small step towards supporting new and breastfeeding parents. MomsRising member stories — stories that you helped amplify through your generosity — helped to drive this win!
---
POSTCARD SURGE
900,000!!! That's the number of voting reminder postcards that MomsRising members like you have requested since this spring. Your donations help us offer this super-easy, high-impact tactic FOR FREE.
Member Angela Tilghman (pictured here) was so excited to fill out her voter postcards, she made a video about it inviting YOU to join her, and tagged us on Twitter!
Our goal is to reach at least 1 million moms who don't always vote and need a friendly nudge from other parents and voters. So if you want some postcards (or even some more if you've already done a batch), just click this link.
Thanks for being a voter and for raising voters!
---
DEFINING "DEFUNDING"
What does defunding the police REALLY mean? MomsRising's Elyssa Schmier breaks it down, showing that we have options when it comes to how our hard-earned tax dollars are spent.
WATCH: It's just 3:22 minutes!
MORE: Find more resources at RECAP: "Defund the police" #KeepMarching meeting
Thank you for making these critical resources possible and available for FREE!
---
MEMBER LOVE
Members share how MomsRising is a positive force in their lives.
"I don't remember how I first learned about the postcard campaign (somewhere on FB) but signed up immediately. I received my cards yesterday and they are in the mail back to you today...
I don't know if I will always have the means to donate but decided to donate my stimulus check to charities and decide MomsRising was a worthy one.
Thank you for all you do."

—Kathie
---
MEDIA SPOTLIGHT
Fireworks Illuminate Movement For Black Lives' Call To Defund Police
Essence, July 16, 2020
"Defunding police is a call to stop police violence and the incarceration of Black people with tactics that are all too reminiscent of periods in American history that we like to believe are over—from slavery to the state-sanctioned violence of the Jim Crow era. But it is also about us reimagining how we coexist with one another as neighbors and how we address human suffering whether it be domestic violence or an issue stemming from mental health, homelessness, unemployment, or disparities in resources and opportunities for Black and brown youth. Ultimately, defunding police is a call for more compassionate and effective public safety and community wellbeing."
*****
States Are Reopening. Schools Aren't. Does Anyone See the Problem Here?
Vogue, July 15, 2020
"[Families First] really did make our life more manageable and sustainable. It made us better workers and made our kids happier and healthier."

— Casey Osborn-Hinman, Senior Campaign Director at MomsRising