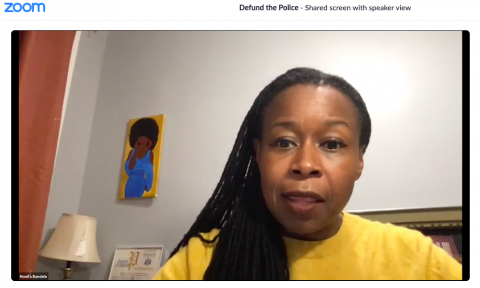 RECAP: "Defund the police" #KeepMarching meeting
At Tuesday night's #KeepMarching meeting, we dove deep into the history of police, the impact on our communities, and explored models and ideas for stronger communities and a defunded police. We learned, among other things, that divesting budget resources away from policing and reallocating those resources to areas like healthcare, housing, and education in order to increase community health, economic wellness, and safety is becoming increasingly urgent. 
We are very grateful to Andrea J. Ritchie, Researcher in Residence on Race, Gender, Sexuality and Criminalization at Barnard College; Kim Ellison, Chairman of the Minneapolis Board of Education; and Phillip McHarris, Lead Research & Policy Associate at Community Resource Hub for Safety & Accountability, for bringing their expertise to the meeting. And thank you to MomsRising's own Monifa Bandele and Beatriz Beckford for leading the discussions.
I. In case you missed the meeting, or would like to review any part of the program, no problem, we recorded it! Click here to watch the recording. Password: 0P@+t==7
II. Participant Comments
We had people joining from the far corners of the country -- from Oakland, California, to Atlanta, Georgia, and from Conifer, Colorado, to Scottsdale, Arizona. The conversation was informative, eye-opening, and highly engaged. Here are just a very few of the many valuable comments and questions that participants shared in the simultaneous chatroom:
Elisa (40:24): As survivor justice org, we support defunding the police because police officers are NOT healthcare workers, police officers do sexually assault women, and almost no justice for survivors.
Becky (53:48): Yes, police unions are a huge problem. As the protest have gone forward, I've wondered how groups can engage or work around them.
Autumn (59:23) : American teachers get paid worse than in most other countries because so much money for schools goes to security/police.
Dawne (01:03:00): In North Carolina, this is one of the things that we were protesting for the last 2 years (more social workers, psychologists, and nurses in schools, better pay for teachers). We are still fighting this.
Emily (01:04:57): Thank you for highlighting student efforts on this issue - they have been tireless in bringing this up over and over again.
Katharine (1:13:55): We need strong communities, not just strong schools.
Stefanie (01:16:32): I love these meetings. So insightful. Lots of things I didn't know. Thanks for sharing your knowledge! 
III. Resources to help you learn more:
IV. We love meeting with members of our #KeepMarching community, and hope to see you at our next meeting. Stay tuned for details!