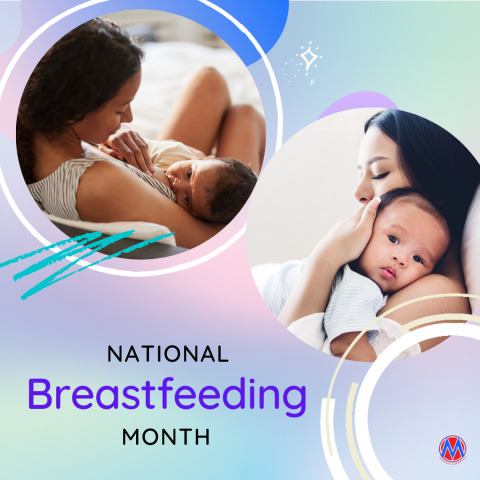 Celebrating National Breastfeeding Month
The calendar has flipped to August and you know what that means - it is time to celebrate National Breastfeeding Month.
It is time to celebrate the first time you put baby to the breast or secured attachment to a supplementer on your chest. To celebrate the first time baby gave you that milky smile. And of course we have to celebrate that challenge that you overcame - whether it was sore nipples, a difficult latch, or the baby who never seemed to unlatch!
Each and every one of those moments deserves celebrating!
But in the celebration we must take a moment to lift up and support or fellow parents who have struggled ot meet their breastfeeding goals. We know that right now while 4 out of 5 U.S. mothers start out breastfeeding, less than half are still breastfeeding at 6 months postpartum.  We know that many parents want to breastfeed or chestfeed, but face challenge after challenge in trying to meet their goals. 
The last year has been particularly  tough navigating the COVID-19 pandemic while pregnant or breastfeeding or chestfeeding. We know the challenges facing so many, particularly  families of color, are more serious right now than they've been in years. The data is in and the pandemic is having an outsized impact on women and moms, with women of color experiencing compounded harms due to structural racism. The pandemic has turned the cracks in our systems into catastrophes, exposing just how much families, communities, and our economy depend on the work of women even though that work has long been, and continues to be, vastly undervalued.
Why are so many women falling short of meeting their personal breastfeeding goals and recommendations of public health professionals? There are a number of reasons and we're going to focus on three right now:
Lack of access to paid family and medical leave
Lack of lactation support and education
Lack of workplace accommodations 
The good news is there is a solution!  There are public policies that can help break down these barriers and empower parents to meet their breastfeeding/chestfeeding goals.  Public policy solutions like paid family and medical leave, ensuring that all moms have access to lactation support, education and supplies and workplace accommodations to express breastmilk. Enacting a comprehensive paid family and medical leave policy will ensure that parents, babies, and partners have the opportunity to heal, bond and set them off on a great start in their breastfeeding journey.  Making sure that when breastfeeding parents encounter difficulties, they have access to lactation support, education and supplies is key to breastfeeding and chestfeeding success.  Once they returns to work we want to ensure that they have adequate break time and a private space to pump so that they can continue to breastfeed/chestfeed.  
Studies show that breastfeeding for the recommended six months can help decrease infant mortality and childhood disease among children of color.  It can also contribute to a lower risk of type 2 diabetes, certain types of breast and ovarian cancer in mothers.  And breastfeeding isn't just good for moms and babies. The fact is that breastfeeding is good for the physical and economic health of our nation.  Recent studies have shown if mothers could meet current medical recommendations for breastfeeding it would save the US economy nearly $13 billion per year in paediatric health costs and premature deaths.
Throughout National Breastfeeding Month, MomsRising will shine a spotlight on the barriers that many parents face in meeting doctors' recommended breastfeeding guidelines and we will lift up our members stories - the struggles, the joys, and every moment in between.  Please join us in celebrating the month with observances each week:
Week 1: World Breastfeeding Week
Week 2: Native Breastfeeding Week 
Week 3: Asian American Native Hawaiian & Pacific Islander Week
Week 4: Black Breastfeeding Week 
Haven't shared your story?  You can do so now.  Is social media your thing?  Snap a photo and tag us on Instagram, Twitter or Facebook with #NBMRisers21  Share your story and advocate for public policies that support ALL breastfeeding and chestfeeding parents.