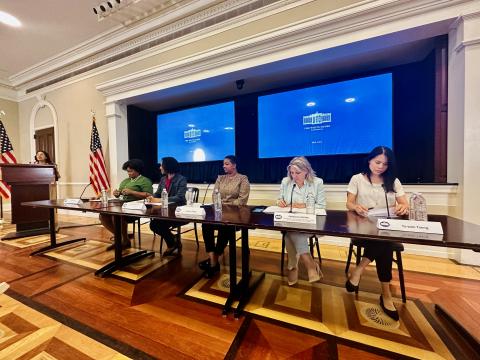 What Employers and Employees Should Know about the PUMP Act
On June 27, the White House hosted a celebration of two historic laws signed by President Biden—the Pregnant Workers Fairness Act and the PUMP for Nursing Mothers Act. These victories are very personal to me, and it was my great pleasure to share my story at the event. 
I have been advocating for the PUMP Act since 2013, when I was denied the accommodations I needed to pump at my office after my first child was born. Even after ten years, I still remember vividly how I crouched on the floor of a toilet stall to pump breast milk for my then 3-month-old baby. It's not ideal, but that was the only place I could find with an outlet and some kind of privacy, because the company didn't provide nursing moms a clean, private place to pump.
I can say from first hand experience that the federal PUMP Act for nursing mothers truly means so much. It sent out a clear message that it's not kindness for employers to support breastfeeding employees, it is the law. It helps shape our culture and build a society in which the importance of breastfeeding is recognized, respected and supported. 
I'm thrilled that with PUMP act, most moms won't have to go through what I went through just to feed their babies. On this happy day, there is one thing I want to tell all the employers: 
Supporting your breastfeeding employees at work is not that hard. All we need is a private space with an outlet. It doesn't need to be big, it doesn't need to be fancy, it just needs to be clean. And it's good investment. The health benefits of breastfeeding are well-documented. Breastfed babies are less likely to get sick; your breastfeeding employees are less likely need to take leaves to take care of sick babies. Supporting breastfeeding boost workers' performance; everybody wins. 
And to all the moms out there, I want to urge you to learn your rights. You must be provided a private space and "reasonable break time" to pump. All employers must comply with the PUMP Act, unless the company has fewer than 50 employees and can show that the break time requirement would place an "undue hardship" on the business.  If you are not treated fairly, you must speak up. You're not just doing this for yourself and your baby, you're doing this for the generations of mothers to come. And you will not be alone—you will have an entire community of advocates behind you.
Learn more about the PUMP Act on U.S. Department of Labor—Wage and Hour Division's FAQ Page.