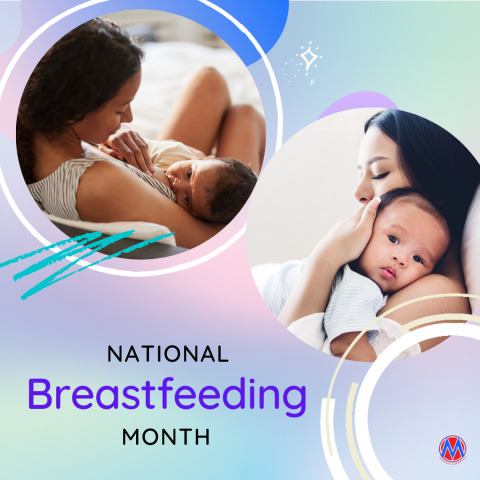 We're Celebrating National Breastfeeding Month
This National Breastfeeding Month we are celebrating!!! 
This year's theme is - This is Our Why. Our why - Supporting public policies that support pregnant and lactating families. 
And this year pregnant and pumping workers have new rights in the workplace.  This is HUGE!! 
Gone are the days of choosing between a healthy pregnancy and a paycheck. No more pumping in storage closets or the bathroom. Pregnant, breastfeeding, and lactating workers are now longer forced to make these impossible decisions thanks to the Pregnant Workers Fairness Act and the PUMP for Nursing Mothers Act ("PUMP Act").
Learn more about the new legal protections for pregnant and lactating workers with our regularly updated blog full of resources - enough to share!
While we'll continue to celebrate (and spread the word) all month long, we know that when it comes to meeting the needs of expectant families - there is still work to be done.  We at MomsRising believe that every person giving birth deserves a safe and healthy experience and should have the opportunity to watch their child grow up and thrive. Every child should have a chance to have their mother by their side.  We know there is still work to be done.  
We must continue to address the maternal health crisis our country faces by passing the Black Maternal Health Momnibus, ensure that families have access to paid family and medical leave and ensuring that all moms have access to lactation support, education and supplies.
Throughout National Breastfeeding Month, MomsRising will shine a spotlight on the barriers that many families parents and we will lift up our members stories - the struggles, the joys, and every moment in between.  Please join us in celebrating the month with observances each week:
Week 1 (August 1-7): World Breastfeeding Week - Theme: Enabling Breastfeeding: Making a difference for working parents
Week 2 (August 8-14): Indigenous Milk Medicine Week - Theme: From the Stars to a Sustainable Future
Week 3 (August 15-21): Asian American Native Hawaiian and Pacific Islander Breastfeeding Week
Week 4 (August 25-31): Black Breastfeeding Week
Week 5 (September 5-11): Lactancia Latina (new)
Haven't shared your story?  You can do so now.  Is social media your thing?  Snap a photo and tag us on Instagram, Twitter or Facebook with #NBMRisers23 Share your story and advocate for public policies that support ALL breastfeeding and chestfeeding parents.