UPDATED! Food Revolution! A Blog Carnival On School Food and Fighting Childhood Obesity, Diabetes
This morning as I packed lunches for my two daughters, my youngest peered over the counter asking, "Did you pack some chips?" She and I both laughed as I placed apple in her lunch bag along side a small portion of her favorite guacamole-flavored chips. Everyday we try to strike a balance between what we want and what we need. It is a learning experience for the whole family.
As we ate breakfast, a Washington Post article caught my eye. It highlighted a dangerous trend in children's heath. According to the article, high blood pressure among school-aged children is on the rise! The increasing numbers of children with hypertension and diabetes indicates a serious national crisis in children's health. And, experts link this crisis to diet and nutrition.
It's time for a change! And, moms and dads across the country agree.  A poll  just released yesterday by The Kids Safe and Healthful Foods Project, a joint project of The Pew Charitable Trusts and the Robert Wood Johnson Foundation, finds that eighty one percent of voters are concerned with childhood obesity and eighty percent of voters favor national nutrition standards that would limit calories, fat and sodium in snack and a la carte foods sold in U.S. schools and encourage the consumption of fruits, vegetables, and low-fat dairy items.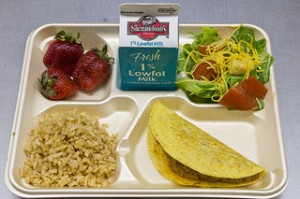 Lunch at Kelly Miller Middle School by DC Central Kitchen, on Flickr
And we at MomsRising are honored to be a part of this growing national conversation about childhood nutrition. When you scroll down this blog you'll find links to information and thought-provoking blogs from other moms, dads, nutritionists, and policy analysts on the importance making sure children have access to healthy food at home and at school (Scroll down this page).  We hope you enjoy these blogs and would love to hear what you think.  Please comment!
The reality is that children need help learning what's good for them to eat, because junk food (which has lots of calories, but little to no nutritional value) tastes great and is hard to resist, even for adults! Moms and dads work hard to teach our children to eat right. At home, we offer balanced meals and encourage them to make healthy choices. But when they are at school, the snack food options can be limited. In order to make healthy choices, our children need healthy options!
This situation is critical! Today more than 23 million children and teens in the U.S. are overweight or obese. Junk food snacks and sugary drinks at school contribute to the epidemic.
Here are a few facts:
1. Over the last four decades, rates of obesity have more than quadrupled in children and more than tripled in adolescents.
2. Schools have a big impact on children's diets. Studies show that children and teens consume 35 to 50 percent of their total daily calories at school.
3. Kids eat less of their lunch, consume more fat, take in fewer nutrients and gain weight when schools offer unhealthy snacks and drinks outside of meals.
4. The sale of low‐nutrition foods at schools (outside of school meals) is associated with increases in children's body mass index (BMI).
There is a light at the end of the tunnel. This Spring, for the first time in 30 years, the U.S. Department of Agriculture, or USDA, will release proposed, minimum nutrition standards for snack foods sold at schools. These "snacks" are foods sold separately from school lunch programs either in vending machines or on a la carte lines. And moms and dads will have the opportunity to weigh in on those proposed standards.
* Let's start that conversation today!  Please check out and share your thoughts on the following important and enlightening blogposts. Improving children's dietary habits is of critical concern to us all. By helping kids eat healthfully, we are fighting obesity, diabetes, high blood pressure, and other serious chronic diseases head on!
***
Voters Want Healthy Snacks in Schools, Kids' Safe and Healthful Foods Project
30 Days Until #FoodRevolution Day!, Jamie Oliver's Food Revolution Team
Food Justice is Racial Justice, Marc Lamont Hill
When Childhood Obesity Gets In the Way of Fun, Elisa Batista
Study: Latino Parents Willing to Make Lifestyle Changes to Help Overweight Kids, Latina Lista
Why Kids Eat What They Do (or Don't), Beth Bader
Why I Am Making Soul Food Junkies, Byron Hurt
Kale Salad and the kids of East Los Angeles!, Nicole Presley
Can we eat some real food please? Alison Crockett
We all eat for a living, Aaron Ableman
Setting a New Academic Standard: Getting Junk Food Out of Schools, Prevention Institute
Are you and your school on the same team?, Shale Wong
Young People (All of Them) Deserve Options, Dara Cooper
Getting Rid of Junk Food Marketing in Schools – It May Be a Lot Harder Than You Think., Joy Spencer
School meals are healthier. So why isn't everything else?, Elizabeth Brotherton
No More Junk in School Foods, Daphne Channel aka Mushy Mamma
The Trouble With Tribbles and Food Deserts, Mark Winston Griffith
From Quinoa to Tater Tots- Food Justice in Our Schools, Natasha Freidus
USA Lunch: Chicken wings and chicken sandwich, What's for School Lunch?
School Food Advocacy By The Numbers, Two Angry Moms
A Buffet of Latin Recipes, Monica Olivera, Hazelton
Time to take  a stand for better DC school food, Better DC School Food
Don't Forget my Lunch, Mom!, ChoiceLunch
Your homemade lunch sucks! Eat some nuggets, Fed up with lunch
Celebrating School Success, Kids' Safe and Healthful Foods Project
School Meals Will Meet New Nutrition Standards, Tray Talk
Is HISD Moving Toward Junk Food Free Cafeterias?, The Spork Report
Our Obese Children: How Schools are Handling the Crisis, Monica Rhor
Obesity Fix? CSAs May Be the Answer, Marian Isel
F as in Fat: States with the highest obesity rates among Latinos, zaydarivera
Like Mami, Like Child: Sneak Some Exercise into your Children's Activities, Laurie Fox
My son worries he's getting fat, Alisa Valdes
Diary of a Diabetic, Viviana Rodriguez
Snack Does Not Equal Sugar, Cynthia Liu