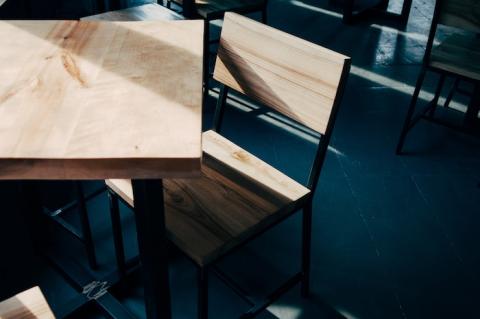 Two Sides: Why This NC Teacher is Marching May 16th
It's crazy to think that after more than 18 years in the classroom and being involved directly in the education and lives of over 500 children, I have to take time off to bring attention to the state of education in North Carolina. It's not just me; two-thirds of NC's school districts have already declared May 16th an unscheduled teacher's workday in order to allow educators to advocate for every child in this state.
What's the big deal? I'm glad you asked. Over 14,500 teachers are expected to respond to that question on May 16th, the day state legislators return to the NC General Assembly. Like great teachers do, we will greet them at the front door. We will ask them one simple question. "Which side are you on?"
There are two sides to choose from on this issue. The side that wants every student to get the best public education possible or the side that wants to make as much money for themselves. Where's the connection you ask? The state's budget.

Public education has been kicked and punched directly in the gut for the past several years. Teacher assistants have been fired, mental health specialists, social workers, and nurses have been eliminated. After school programs have been cut. Textbooks...gone. Dependable technology to replace textbooks... unheard of. Arts, music, librarians, PE, sports, on a walking plank. There is nothing left but the pickings that a vulture would pass up. And some think May 16th is about teachers wanting a pay raise. We will get to that.
I immediately moved to North Carolina, alone, after receiving my teaching degree because this was the very best state to have a teaching career in. The support was unmatched. National Board Certification support and rewards, longevity, Master's degree pay, Teaching Fellows, appropriate health benefits, due process rights, funding for professional development, appropriate assessments, sufficient spending per student, appropriate classroom roster sizes, and so much more. Guess what is still available from that list? NOTHING! It's all gone!
Why? That's a pretty good question.
The answer: you can't give money to public education and pay for massive tax breaks to the wealthy and corporations. You have to choose.
In North Carolina, we weren't chosen. Your child wasn't chosen. Your future lawyer, medical professional, mechanic, educator, parent wasn't chosen. Their crumbling school buildings, principals, custodians, materials weren't chosen either. Unthinkable, right?

Now back to this teacher pay raise. Like everyone, teachers want to be able to pay all our bills every month and take care of our own families' needs. Utilities and the cost of living go up every year. Why has the average NC teacher salary declined in the last 12 years? Don't be fooled by the magic numbers you are being fed by those who want you to think teachers are whining. Ask any two teachers if they can sufficiently pay bills. My guess is two will say no. We aren't asking for an extra big bonus. We need a salary that will get us out of debt and take care of our families' essentials.
Here are some quick numbers:
39th in per pupil spending;
37th in teacher pay; and
over 7,000 teacher assistants pink-slipped
Yep. You read those right. Why cap a teacher's salary? Last I checked, all the other professions made possible because of teachers didn't have a cap. They have all the tools they need. And they have a 9 to 5.
Now you know from a teacher's perspective what's really going on. From a teacher who loves this state and her job. I am ready to fight for students and my fellow educators.
So, which side are you on?
P.S. I think it's important to note that even as we prepare to not be in the classroom on May 16th, teachers have been spending the last few Saturdays meeting with community supporters to make sure students aren't left hungry and that parents who need help with childcare have choices. Told ya, this is personal to us.  
NaShonda Cooke is a veteran NC teacher, leads a mentoring program, and is a mom of two. She also serves on the NC MomsRising steering team.
---
Looking for more resources on Wednesday's march or resources to support families who are out of school?  Check out these other posts on our blog:
https://www.momsrising.org/blog/thousands-of-nc-teachers-parents-marching-may-16-join-us
https://www.momsrising.org/blog/marching-in-nc-may-16th-some-things-you-need-to-know
https://www.momsrising.org/blog/nc-school-district-closed-for-day-of-action-resources-to-help
https://www.momsrising.org/blog/why-i-am-marching-with-teachers-on-may-16