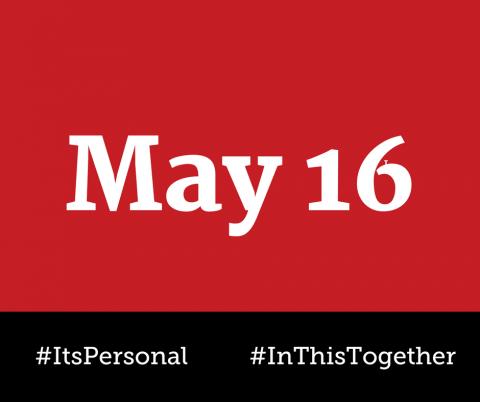 Thousands of NC teachers & parents marching May 16. Join us!
When it comes to our kids, it's personal.
Every day the majority of North Carolina's children spend most of their waking hours in our state's public schools. Sadly, for the last decade NC's schools have been consistently underfunded, leaving North Carolina ranked in the bottom half of the nation in per pupil spending and teacher pay. Deep funding cuts have caused critical shortages in teacher assistants, school nurses, and other staff. And our schools and teachers have been left scrambling to fill gaps for classroom supplies and textbooks while their school buildings crumble due to lack of maintenance. It's not ok. Our students and our teachers deserve better.
That's why MomsRising members will be headed to Raleigh on May 16th to mark the first day of the legislative session with thousands of teachers, parents, and students at the March for Students and Rally for Respect. It's time to stand up for the schools our students deserve.
When it comes to making sure NC's children have what they need to thrive, we are #In ThisTogether On May 16th, we'll make sure our state lawmakers know it. Can you join us in Raleigh for the march and rally? RSVP here to let us know to look for you and share why you plan to march.
**Can't make it, but want to make sure our teachers know you stand with them? Leave a quick note here.
Inspired by teachers in West Virginia, Kentucky, Oklahoma, and Arizona, thousands of NC teachers are taking a personal day on May 16th to travel to Raleigh to speak out for their students and schools. So many have called out that 18 school districts (and growing!) have closed for the day.
This wasn't a rushed decision. For years, NC teachers and public education advocates have been sounding the alarm about the damage being done by funding cuts. And, yet, NC still:
Our teachers are on the frontlines of educating and caring for our state's children, but many of them have to work second jobs just to make ends meet for their own families. And too often teachers are trying to offset the cuts out of their own pockets with teachers spending on average $500-1,000/ year to stock their classrooms.
This massive underfunding of NC's schools is not inevitable. It's a choice. Despite an economic recovery following the 2008 recession, NC state lawmakers have refused to reinvest in our schools at the levels we need. Enough is enough.
During the recession, most states including ours cut spending for schools to make up for budget shortfalls. But since then, many other states have brought funding back up or close to where they were a decade ago. That's not the case in North Carolina. According to a report released in December by the Center on Budget and Policy Priorities, our state spends 8 percent less per student than it did before the Recession. Instead of reinvesting in our schools and our students, North Carolina is one of a handful of states that have recently cut the state income and corporate income tax with more potential cuts on the horizon.
As lawmakers reconvene to review the budget, they need to hear that it's time step up for our kids, our teachers, and our schools, and fund the schools NC students deserve. RSVP to let us know you'll join us in Raleigh or to share a note of support if you can't be there in person. 
Across the country, teachers and parents are standing up for their kids and their schools. It's time we do it in NC, too.
Here's the plan, thanks to our partners at the North Carolina Association of Educators:
10:00 am-Meet at NCAE Headquarters, 700 S. Salisbury St. (Be there no later than 10 and get there early for parking)
10:30 am-March for Students. (from NCAE to Legislative Bldg., about 25 min)
11:00 am-Enter Legislative Bldg. and start assembling on 3rd Floor. This may take a little longer than usual with new metal detectors and fewer entries.
12:00 pm-General Assembly convenes. We would love to have families in the gallery if possible.
1:00 pm-Time to make appointments with your local representative and on your own for lunch.
(If you have kids with you who need a break, you could take time between the march and the rally to eat a picnic lunch you bring or visit one of the museums close by).
3:00 pm-Start assembling on Bicentennial Plaza across from the Legislative Building for Rally for Respect.
3:30 pm-Rally for Respect begins.
4:30 pm-Rally concludes and participants can start making their way back to NCAE Headquarters by foot or by using the R-Line (bus), which picks up at Jones and Wilmington and drops off near NCAE at the Convention Center. Alternatively, you could park near the General Assembly in the morning so you'll be there when you're done. 
When you RSVP, we'll provide more information on parking, lunch, signs, and more. RSVP here and we'll send you all the details.
NC teachers and advocates recognize that school closures will cause hardships for some families in terms of child care and for those who rely on the school day for healthy meals. Local coalitions including teachers, parents, the faith community, neighborhood groups, and more are mobilizing to help fill the gaps. Check out MomsRising's blog for local resources by community. It will be updated regularly.
Time and again we've seen that real change only happens when people step out of their comfort zones and demand better. Our state's teachers are leading the way, and it's critical that they know that parents have their backs.
For our children. For our teachers. For our schools. It's personal, and we are in this together.
Don't forget to RSVP or send your note now!
We hope to see you May 16th in Raleigh!