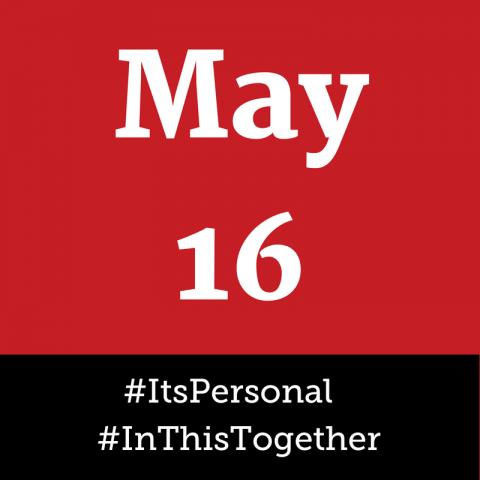 NC school district closed for day of action? Resources to help!
On May 16th, thousands of NC teachers, parents, students, and public school supporters will be headed to Raleigh for the March for Students and the Rally for Respect. Why May 16th? Because it's the first day of the 2018 legislative session and, as lawmakers reconvene to review the state budget, they need to hear that it's time step up for our kids, our teachers, and our schools, and fund the schools NC students deserve.
Inspired by teachers in West Virginia, Kentucky, Oklahoma, and Arizona, thousands of NC teachers are taking a personal day to travel to Raleigh and speak out for their students and schools. In fact, so many teachers have called out of work that day that 17 school districts, representing more than a third of NC's public school students, have closed for the day.
This is an impressive show of solidarity and the decision the teachers made to walk out wasn't taken lightly.
NC teachers and advocates recognize that standing up for a long term fix will cause short term hardships including: school closures for those who rely on the school day for healthy meals and child care during the work day.
This is where the community comes in and where we band together.
Local coalitions including teachers, parents, the faith community, neighborhood groups, and more are mobilizing to help fill the gaps caused by the school closures. We do this to support the teachers and their efforts and to help fill in the gaps for families.
We will use this blog post and the space below to to gather, share, and update child care and food support resources by school district. While not a comprehensive list, we hope this can serve as a starting point. Listing here does not constitute an endorsement of any particular service but rather items are being shared for informational purposes only.
If you know of additional resources, please send them to Beth@momsrising.org. We will update as needed.
TRIANGLE:
Check out these  blogs on school nutrition locations and child care options from Sarah Lindenfeld Hall with WRAL's Go Ask Mom.
CHAPEL HILL-CARRBORO:
School nutrition from Chapel Hill-Carrboro Schools:
"As you know, Wednesday, May 16 has been changed to a teacher workday. In an effort to provide meals for students, our Child Nutrition team has arranged to open three school cafeterias on that day.
Any student from birth through high school is welcome to come to the following schools. Breakfast will be served from 7:30-8:30 a.m. and lunch will be served from 10:30 a.m. to 12:30 p.m. There is no cost for these meals.
Carrboro Elementary – 400 Shelton St.
Northside Elementary – 350 Caldwell St.
McDougle Elementary – 890 Old Fayetteville Rd.
Additionally, the following five additional community sites will serve lunch from 11:30-12:30.
Abbey Court/Collins Crossing (next to the pool) – 501 Jones Ferry Rd.
Ridgefield (community center) – 301 S. Estes Dr.
Dobbins Hill (playground/community center) – 1749 Dobbins Dr.
Colony Woods West/Adelaide Walters/Jackie Robinson (small playground) – 4 Adelaide Walters Ct.
Airport Gardens (playground) – 815 MLK Junior Blvd.
Breakfast will include a choice of cereal, string cheese, assorted juice, milk. Lunch will include chicken nuggets, fresh baby carrots, bag of chips, apple, assorted juice and milk.
We greatly appreciate the work of Chartwells School Dining Services, our Child Nutrition provider, in making these meals available. Please also note this week is School Nutrition Employee Week. Our Child Nutrition team works really hard to provide delicious and nutritious meals for our students every day. Be sure to thank them for a job well done."
DURHAM:
Information on school nutrition information from Durham Public Schools:
Durham Public Schools will provide meal services on May 16 through an extension of their summer feeding program at the 13 schools listed below. *Any* student in Durham County can receive free breakfast and lunch from *any* school listed. It does not have to be the school you attend.
Bethesda Elementary
Club Blvd. Elementary

Eastway Elementary

Eno Valley Elementary

Githens Middle

Glenn Elementary

R.N. Harris Elementary

Hillandale Elementary

Lakewood Montessori Middle

Sandy Ridge Elementary

Shepard Elementary

Southwest Elementary

Southern School of Energy and Sustainability
School Nutrition Services staff members will be on-site at these locations to prepare and serve meals in the cafeterias. All meals will be free to all students.
Breakfast will be served from 7:30 a.m. to 9:30 a.m.: muffin, Nutri-Grain bar, fruit juice and milk.
Lunch will be served from 11 a.m. to 1 p.m.: turkey and cheese or ham and cheese sandwich, chips, fruit juice, fruit cup, baby carrots, Rice Krispie treat, and milk.
Child care options (from the May 16 coalition):
The Durham Association of Educators is coordinating with community partners to provide child care opportunities for those parents who depend on schools to keep their children safe when they are at work.  Information on community-supported childcare options will be posted as soon as it is available.  See the Community Resources and fund raising sections above to contribute!  Additionally, the following businesses and organizations have announced childcare options:
Resources on academic support, nutrition, and child care in Durham from the May 16 Coalition https://may16.org/durham/
FORSYTH:
 Winston-Salem/Forsyth County Schools,  Lunch Sites, May 16, 2018
 ALL will serve lunch from 11 a.m. to 12:30 p.m.       ALL students are welcome!
Ashley Academy, 1647 Ashley School Circle, W-S 27105
Bolton Elementary, 1250 Bolton Street, W-S 27103
Brunson Elementary, 155 N. Hawthorne Road, W-S 27104
Carter High (Kennedy campus), 851 Highland Court, W-S 27101
Carver High, 3545 Carver School Road, W-S 27105
Cook Literacy Model, 920 11th Street NW, W-S 27105
Diggs-Latham Elementary, 986 Hutton Street, W-S 27105
East Forsyth Middle, 810 Bagley Drive, Kernersville 27284
Easton Elementary, 734 E. Clemmonsville Circle, W-S 27107
Flat Rock Middle, 4648 Ebert Road, W-S 27107
Forest Park Elementary, 2019 Milford Street, W-S 27107
Gibson Elementary, 2020 Walker Road, W-S 27106
Griffith Elementary, 1385 W. Clemmonsville Road, W-S 27127
Hall Woodward Elementary, 125 Nicholson Road, W-S 27101
Ibraham Elementary, 5036 Old Walkertown Road, W-S 27105
Kennedy High, 890 E. 11th Street, W-S 27101
Kernersville Elementary, 512 W. Mountain Street, Kernersville 27284
Kimberley Park Elementary, 1701 N. Cherry Street, W-S 27105
Kimmel Farm Elementary, 4672 Ebert Road, W-S 27127
Kingswood, 1001 Reynolda Road, W-S 27104
Konnoak Elementary, 3200 Renon Road, W-S 27127
Main Street Academy, 2700 S. Main Street, W-S 27127
Middle Fork Elementary, 3125 Williston Road, Walkertown 27051
Mineral Springs Elementary, 4527 Ogburn Avenue, W-S 27105
Mineral Springs Middle, 4559 Ogburn Avenue, W-S 27105
Moore Magnet Elementary, 451 Knollwood Street, W-S 27103
North Forsyth High, 5705 Shattalon Drive, W-S 27105
North Hills Elementary, 340 Alspaugh Drive, W-S 27105
Northwest Middle, 5501 Murray Road, W-S 27106
Old Town Elementary, 3930 Reynolda Road, W-S 27106
Parkland IB Magnet High, 1600 Brewer Road, W-S 27127
Petree Elementary, 3815 Old Greensboro Road, W-S 27101
Philo-Hill Magnet Academy, 410 Haverhill Street, W-S 27127
Smith Farm Elementary, 4250 Johnny Knoll Lane, W-S 27107
South Fork Elementary, 4332 Country Club Road, W-S 27104
Speas Global Elementary, 2000 W. Polo Road, W-S 27106
Walkertown Elementary, 2971 Main Street, Walkertown 27051
Wiley Magnet Middle, 1400 Northwest Boulevard, W-S 27104
Winston-Salem Preparatory Academy, 1215 N. Cameron Avenue, W-S 27101
WAKE:
Information on bus service and meals in English and Spanish from Wake County Public Schools
Current list of childcare options compiled by MomsRising member Stephanie Lormand:
Triangle:
BOYS and GIRLS CLUB will be open to its members
Camp Rooster~30 camp options listed. Go to the little calendar that says "upcoming" and select May 16 for start and end dates. Then you can see what is near you on the map! https://camprooster.com/
Raleigh:
Parks and Rec Track- out Camp: https://t.co/6Dwq0pTEUH
Raleigh Parks and Rec Track Out camps-https://twitter.com/raleighparks/status/993862844616671233
Giggles Drop-In Childcare of Raleigh, 6504 Falls of Neuse Road, Suite 150, Raleigh, NC 27615, 919-438-1126
RightTimeKids, 10320 Durant Road 919.847.8407
RightTimeKids, Raleigh: 1028 Oberlin Road, Suite 242, Raleigh, NC 27605, 919.400.5561
Flour Power Kids Cooking https://www.flourpowerstudios.com/register/northhills/camps
RTP-ish:
Apex:
Arts Academy of Apex, https://www.artsacademyofapex.com/, 612 NC Hwy 751 Apex, NC 27523, artsacademyofapex@gmail.com \ 919.323.2219
XL SportsWorld,1016 Investment Blvd, Apex, NC 27502, Phone: (919) 387-2955
Bounce U, 3419 Apex Peakway, Apex, NC 27502, (919) 303-3368
Kool Kidz drop-in, Phone: (919) 439-3342, Address: 806 Perry Road, Apex, NC 27502, Email: apex@koolkidzdropin.com
S'kids drop-in, 5160 Sunset Lake Rd #111, Apex, NC 27539, (919) 362-5445
TPANC Track Out/Baseball Camp-- APEX location only tpanc.com, https://www.instagram.com/tpatrackoutbaseballcamp/
Cary:
Bond Park Community Center,Town of Cary Parks, Recreation & Cultural Resources, Phone: 919-462-3970, http://townofcary.org/…/camp-information-track-out-summer-a…
Giggles, Harrison Pointe Shopping Center, Address: 267 Grande Heights Dr, Cary, NC 27513, Phone: (919) 468-1001
Allen's Taekwondo, Day camp for kids on the 16th,$30 for the day, kids will need to bring a lunch (no peanuts). Call for details: (919) 467-5425.
Science Fun for Everyone, http://www.sciencefun.org/single-day-mini-camps/, The Science Lab Location, 111 James Jackson Ave, #131, Cary, NC 27513
Sk8-Cary- one-day camp for all action sports. http://www.townofcary.org/recreation-en…/facilities/sk8-cary, Contact: veronica.thring@townofcary.org
Zaniac Parkside - 9a to 4p, $89 https://www.zaniaclearning.com/parkside/
Garner:
Fuquay Varina:
Holly Springs:
Wake Forest:
WE WILL CONTINUE TO UPDATE THESE RESOURCES AS NEW INFORMATION COMES IN. IF YOU KNOW OF RESOURCES AVAILABLE FOR ANY OF THE 18 SCHOOL DISTRICTS THAT ARE CLOSING, PLEASE EMAIL BETH@MOMSRISING.ORG