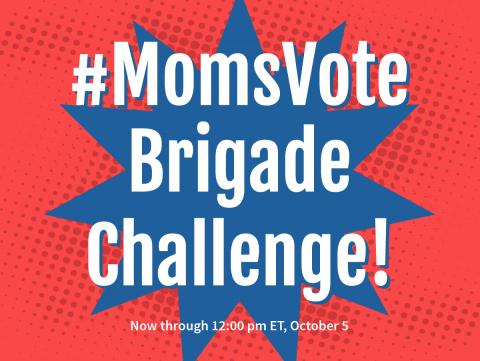 Top #5Actions of the Past Week: September 29, 2018
It's been a powerful week. Yesterday we delivered over 1.5 million signatures from people like you opposing the nomination of Judge Brett Kavanaugh. Tens of thousands of us have called, written and emailed our Senators asking for the same. And many more gathered outside Senate offices yesterday to remind leaders to believe survivors. Thank you. As events have shown, regular people and our stories can have a powerful influence on our leaders.
On Wednesday thousands of us also delivered letters to Wells Fargo and JP Morgan Chase banks urging them to stop financing CoreCivic and GEO Group, for-profit prison corporations that are profiting off the pain and separation of families. We delivered your signatures right to their corporate headquarters, too. 
Thank you to everyone joining us to speak up every day for policies and processes that truly support women and families. Never lose faith that our voices are heard, and we will win.
Next up: please take a moment to be sure you've signed all of our top actions for this past week! Then share with friends and family, and #KeepMarching. Onwards => 
1. Call Now: Tell your U.S. Senators to halt the confirmation of Kavanaugh! 1-855-976-1895
BACKGROUND: Thanks to the public outcry of women and our allies across the country, an FBI supplemental investigation of Kavanaugh has been ordered, but it is limited in scope and wasn't given enough time as it must be completed in less than a week. Tell your Senator that you stand with Dr. Christine Blasey Ford, Deborah Ramirez, and Julie Swetnick and ask them to call for a full investigation into the allegations, regardless of the time it takes, and to halt the confirmation of Kavanaugh! Can you make a quick call? Just dial 1-855-976-1895 and we'll connect you.
2. Power Up #MomsVote! (Donate by Sunday to Get an Awesome Button!)
BACKGROUND: Ready to help get out a massive, energized, ready-to-change-the-world #MomsVote for the crucial November elections? Awesome. We need you! Make a donation to MomsRising BEFORE Sunday, Sept. 30, and we'll send you a limited-edition #CantWait2Vote button. Wear it proudly! Show everyone your plan to be a committed voter, and inspire others to vote, too! Here's what it looks like, below. Please donate today!
3. Your Voice is Needed on Childcare!
BACKGROUND: The childcare struggle is real. And according to a new study, it's not just a gut punch to families, but to our workforce, too! A study just released by the Center of American Progress (CAP) found that 77% of parents with children under the age of five report that access to childcare has negatively impacted their career advancement--with millennial parents being some of the hardest hit. This means parents are forced to leave jobs to provide care, forgo full-time jobs, wait on promotions, and more. This is NOT good news for our economy or families. Parents are trying their best, but the reality is that families are being stretched too thin. That's why elected leaders need to hear from you! Send us a quick note on why affordable, high-quality childcare is important to your family so we can show elected leaders that access to childcare is a big problem that needs even bigger solutions!
4. Don't Let the Headlines Distract Voters from Election Day! Write a letter to your paper reminding people to register to vote!
BACKGROUND: #MeToo, 3D guns, family separation, and so much more... The daily cascade of infuriating headlines is riveting our attention. But REMEMBER: These battles are really just symptoms of our biggest problem of all -- we don't yet have policies that reflect the values, contributions, needs and priorities of women and mothers. That's why we can't let current events distract us from working for the longterm solution: Making sure there's record turnout at the polls on Election Day this November 6th, so we get the leadership we need that prioritizes our families, communities, contributions, values, and priorities. Help refocus your community on voting on November 6th by writing a Letter to the Editor reminding people to make sure they are registered to vote!
5. Take the #MomsVote Brigade Challenge!
BACKGROUND: Here's a fun way to take action to build voter momentum, and get rewarded for it! When you sign on to take the #MomsVote Brigade Challenge, you get a list of actions you can take NOW, with new actions added regularly. From now through 12 noon ET, Oct. 5, for every action you take, you earn raffle points to win an awesome, FREE prize package, which includes this awesome, limited-edition t-shirt you can't buy anywhere!
Thank you for all you do and #KeepMarching!