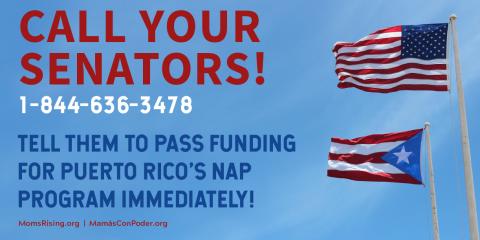 Top #5Actions of the Past Week: March 1, 2019
It's March, and spring is officially in the air! We're back with this week's round-up of top actions, featuring urgent campaigns around tax credits for working families, child care, protecting school lunch and SNAP (food stamps), gun safety, the #FakeNationalEmergency, and more. Be sure to scroll down for inspiring photos of MomsRising staff and volunteers on Capitol Hill, and information on our fantastic new storybook on the School to Prison Pipeline. We know it's a busy time, but your voice matters and is urgently needed.
Thank you, and here's the list! => 
1. Quick Signature: Tell your Senators to stop President Trump's misuse of emergency powers!
BACKGROUND: Progress! This week, the U.S. House did what was right by rejecting President Trump's unconstitutional misuse of national emergency powers to secure funding for his harmful wall. This unconstitutional power grab is a step toward unchecked authoritarianism and we need EVERYONE to speak out! What happened? In a nonsensical tantrum, President Trump declared a fake national emergency in order to secure funding for his harmful wall after he failed to pressure Congress to give it to him. Our nation's moms will not sit by as the President recklessly misuses emergency powers to waste our tax dollars and undermine our democracy. What's the best way to stop a tantrum? Call in the MOMS! Tell your U.S. Senators to immediately condemn President Trump's gross overreach and pass the joint resolution to terminate President Trump's unconstitutional emergency declaration. #FakeNationalEmergency #RevokeTrumpEmergency
2. Speak Out for Child Care for All Families!
BACKGROUND: The struggle is real when it comes to finding high-quality, affordable early learning opportunities for our little ones. Childcare and pre-K costs are sky high-in fact, in 30 states and the District of Columbia, infant care costs exceed the average cost of college tuition. Approximately half of American families live in a "childcare desert", meaning they can't access the quality childcare they need. Additionally, early learning providers, 94% of whom are women, are struggling significantly since childcare is one of the lowest paying industries in the United States. This is why we are inspired and thrilled that Senator Patty Murray (WA), Senator Bob Casey (PA), and Representative Bobby Scott (VA) are taking a stand to address these issues by introducing the Child Care for Working Families Act. This legislation will address our nationwide early care crisis by lowering childcare costs for low-income and middle-income families, supporting universal pre-K programs for all 3 and 4 year-olds, and significantly improving compensation and training for the childcare workforce to ensure that our nation's teachers and caregivers have the support they need.
**Sign our letter NOW encouraging your members of Congress to create a brighter future for our littlest learners, workforce, and economy by supporting the Child Care for Working Families Act.
3. Tell Congress to Support Working Family Tax Credits!
BACKGROUND: The U.S. Congress needs to reject the Trump-GOP Tax Plan and pass policies that we know work. We need tax policies that boost working families, instead of mega-corporations. Lucky for us, leaders in Congress are starting to put together proposals that will help our families and even the playing field in our upside-down, only-benefiting-the 1% tax code. Strengthening and improving the Earned Income Tax Credit (EITC) and Child Tax Credit is the type of tax policies our working families need NOW! *SIGN our letter to the U.S. Congress telling them to strengthen tax credits for working families, like the Earned Income Tax Credit (EITC) and Child Tax Credit, and repeal the Trump-GOP Tax Scam!
4. Your Story Needed! How have your kids been boosted by school lunches?
BACKGROUND: The U.S. Congress will start reauthorizing the Child Nutrition Act and we want to share with them all the ways our kids are helped by free and reduced-priced school lunches and breakfast. Tell us how school meals help you and your family and we'll share your thoughts and experiences with key decision-makers. Your voice is powerful and needed! 
BONUS ACTION to fight hunger: 
Without immediate action by Congress, 1.4 million Puerto Ricans are at risk of seeing their food stamps (NAP) reduced or cut all together in the next few weeks. CALL your Senators now and tell them to pass this funding ASAP! 1-844-636-3478 


Sin acción inmediata del Congreso, 1.4 millones de puertorriqueños están en riesgo de que sus cupones de alimentos se reduzcan (NAP) o sean todos eliminados en las próximas semanas. ¡LLAMA a tus senadores ahora y diles que pasen fondos ahora! 1-844-636-3478 
5. Help MomsRising Win Again For #GunSafety! This time, in the U.S. Senate
BACKGROUND: Yesterday, on the 25th anniversary of the landmark Brady Bill requiring background checks on some handgun sales, the U.S. House finally passed H.R. 8, legislation that would require background checks on virtually all gun sales. And today, the House voted to close the Charleston loophole, tightening existing background checks. But we still have a long way to go - these bills still need to make it through the rest of Congress. Can you chip in $5 to help us take this fight for gun safety to the U.S. Senate? Thank you!  
RESOURCE OF THE WEEK: Standing Up for Students Storybook
Thousands of Black, brown, disabled, LGBTQIA, and indigenous students are suspended or expelled at higher rates in schools each year. This disturbing trend is known as the #schooltoprisonpipeline. We've gathered dozens of stories from our members, as well as an exclusive interview with Deion Browder, that tell us how it has impacted their lives. Read and share!  
INSPIRATION OF THE WEEK!
MomsRising staff and members were thrilled to attend the reintroduction of the Child Care for Working Families Act in Washington, D.C. this week. And we're so inspired by one of our members, Krystina, who spoke at the press conference!  
Thank you for all you do!