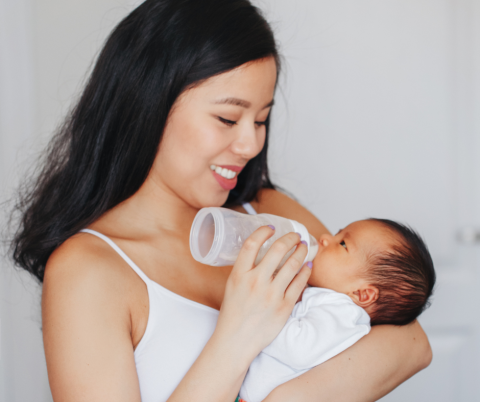 Top #5Actions of the Past Week: Friday, June 10, 2022
Each week, we provide you with a number of urgent, high impact actions that you might have missed. We appreciate you taking the time to take action, to share on social media, and to help us spread the word. All of our actions together add up to create change.
This week, we have a couple of urgent actions for you to take (see below) – and we also have two amazing videos for you to watch:
Thank you for all you continue to do! We hope you're having a great start to your summer.
– Sue Anne, Kristin, Elyssa, Monifa, Kelsey, Diarra and the rest of the MomsRising / MamásConPoder Team
Tell Congress to take action NOW on the infant formula shortage!
It is now being reported that in most states there is a 74% shortage of infant formula, with some states experiencing a shocking 90% out-of-stock rate for common formulas. This is a crisis and we need Congress to take immediate action to ensure parents can provide their babies with the nutrition they need now and that this type of emergency doesn't occur ever again.
Sign our letter to Congress calling on them to take immediate action to address the infant formula shortage and prevent future shortages from happening!
A Tender Garden: Reimagining School Safety
In support of our Counselors Not Cops campaign, we have created an animated video about the damaging impact of police in school environments and the importance of finding alternatives to police in schools. Support MomsRising by viewing and sharing this video!
View and Share "A Tender Garden: Reimagining School Safety" Video
Support the 2022 Postcards!
This coming election will determine our future. Everything from our civil rights, and healthcare to our family's economic security, education, care infrastructure, and safety is at stake. JOIN US in co-creating the next chapter in women's history— the future that our children deserve and that the women before us would be proud of! In our 2020 Postcard Campaign, more than TWO MILLION person-to-person handwritten postcards were deployed as a part of our record-breaking voter mobilization campaign. We shattered expectations, increased voter turnout of low-frequency mom voters and we are ready to DO IT AGAIN!
Please chip in to support MomsRising's Mom-to-Mom Voter Postcards right now.
Record a video about why access to abortion care is important. (Less than 60 seconds)
Say it with us: #BansOffOurBodies! Every single person should be able to make their own decisions about their health and their bodies — including whether to get an abortion, in consultation with their loved ones and health care providers. We implore you to join our movement. We want you to be a part of the action in every single way possible! Make your unique voice be heard: Share your story and we'll use it to pressure federal and state elected leaders to act now on reproductive rights! This is about obtaining and maintaining medical freedom and the right to make our own choices.
Make your voice be heard: Share your reproductive story!
Check out our virtual roundtable with U.S. Health and Human Services on the infant formula crisis
The baby formula crisis is a national emergency - and we're here to help! MomsRising and Little Lobbyists held a virtual roundtable earlier this week with the U.S. Department of Health & Human Services's Assistant Secretary of Health Admiral Rachel Levine. During this informative conversation, we shared stories from moms struggling to find and afford formula, dispelled myths and misinformation, and offered guidance on how to safely feed your baby during this crisis.
Check out the 20 minute video from our virtual infant formula event with Assistant Secretary of Health Admiral Rachel Levine