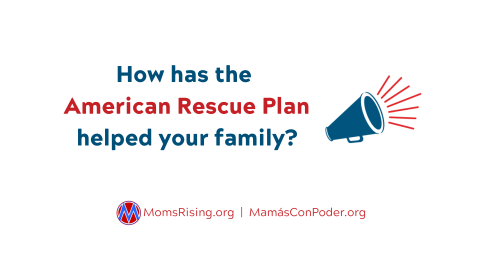 Top #5Actions of the Past Week: Friday, April 30, 2021
This week we saw President Biden pass 100 days in office and deliver a speech to a joint session of Congress that highlighted many of the priorities MomsRising members have long been fighting for around the country! A big week!
We have 5Actions for you to take this week important to moms and families, including supporting breastfeeding moms, protecting transgender healthcare rights and sharing your story about how the American Rescue Plan has benefited you so we can fight for even more changes to lift our families and economy.
-- Sue Anne, Kristin, Felicia, Tina, Diarra, Claudia, and the rest of the MomsRising / MamásConPoder Team
Immigrants are essential to our Care Infrastructure!
Immigrants are a vital part of our essential workforce, the care infrastructure, our communities, and our families. During the COVID-19 pandemic, this has become even more apparent as immigrants played and continue to play an integral role in our care infrastructure as caregivers and other essential workers. A pathway to citizenship for immigrant essential workers, Dreamers and TPS holders must be included in recovery legislation.
Send a letter to the editor saying, "Immigrants are essential!"
Support ALL Breastfeeding & Working Moms!
Nearly four out of five U.S. mothers start out breastfeeding, but less than half are still breastfeeding at six months postpartum. One of the main causes for the drop-off in breastfeeding rates is the lack of break time and a private place to pump in the workplace.
Send a quick message urging lawmakers to support breastfeeding and working mothers!
Urge your Member of Congress to Support the EACH Act!
Banning abortion doesn't end abortion — it just ends safe, legal abortion. Legislation such as the EACH Act will ensure that harmful bans on abortion that deny coverage just because someone is struggling financially, like the Hyde Amendment, will be overturned. Lack of coverage should never stand in the way of anyone making the best decision for themselves and their family.
Urge your members of Congress to support and co-sponsor the EACH Act!
Tell your lawmakers to protect Trans youth health care!
LGBTQ youth deserve to live their lives free from stigmas and governmental attacks from lawmakers and police, whose sole job is to protect and serve us, the people -- that includes Black, LatinX, disabled, immigrant LGBTQ people. By taking away health care rights of trans and LGBTQ youth, we are putting them at higher risk for suicide, self-inflicted violence, substance use, sexual violence, and sexual risk behaviors. Doctors, social workers, and parents agree that a gender affirming approach has proven to be the best approach for youth who are transitioning or considering transitioning. This affirming model has been supported and recommended by the American Medical Association, the American Psychological Association, the American College of Obstetricians and Gynecologists, and many other major medical associations.
Trans youth rights are under attack on several levels. We must act now! Sign on with us right now to support all LGBTQ youth and tell your Governor to STOP any plans to prohibit trans youth from receiving the proper health care they need.
How has the American Rescue Plan benefited you (or will it benefit you soon)?
The American Rescue Plan passed in March 2021 to help families across the country as they struggle through the fallout of the COVID-19 pandemic and its economic impact. This landmark legislation included:
Expanded health care benefits & home- and community-based services coverage
Tax credits through the Child Tax Credit (CTC), Earned Income Tax Credit (EITC), and stimulus payments
Childcare benefits via increased subsidies and more
Unemployment benefits extended through September 2021
Expanded tax credits for employers to voluntarily provide emergency paid pandemic leave
If you have benefited (or will benefit) from any of these new provisions, tell us about your experience!