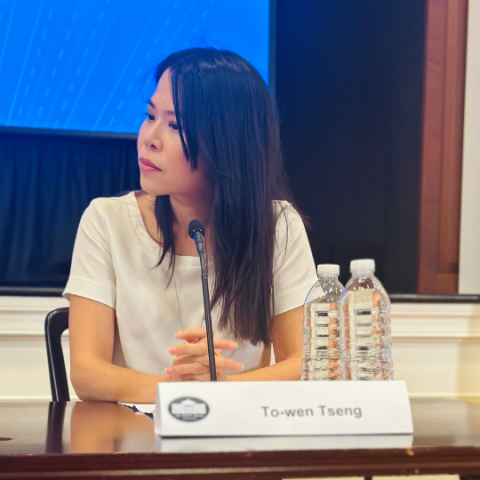 This Mama Shares How MomsRising Empowered Her to Become an Advocate
To-wen is a mom and journalist based in California. She has been a MomsRIsing member for a decade! Through the years, To-wen has participated in a number of MomsRising actions and was part of MomsRising's inaugural RISERS cohort in 2021-2022. We asked To-wen to share a bit about how her advocacy has evolved and what she thinks about being a mom in the USA now. 
How did you first come into the MomsRising universe? (I think it was through breastfeeding advocacy, right?) What campaign areas have you been involved in since you joined MR? 
I first came into the MomsRising universe in November 2013, when a series of breastfeeding discrimination incidents at the workplace resulted in my separation from my previous employer. I ran across MomsRising's website when searching for breastfeeding support resources online. Frustrated and despairing, I wrote a ridiculously long email to MomsRising, explaining what happened to me. I didn't expect anybody to respond to me; but the very next day, a woman named Anita wrote back to me, inviting me to blog for MomsRising, "not just for myself but also for all the moms who may be mistreated at their workplaces because of birthing and breastfeeding reasons." 
Since then I've been involved in all the campaigns that related to birthing and nursing justice. In recent years I've moved on to advocate for quality, affordable child care and fair presentation of immigrant and children of color in media and literature. I've also been involved in immigrant rights advocacy, though not as much as other campaigns areas that I've been part of.
How has being part of the RISERS fellowship supported you as a parent and advocate? What was your favorite part of being part of the RISERS program? 
The RISERS program supported fellows as both advocates and parents. It provides a great opportunity to meet up with and learn from like minded moms. When it comes to advocacy, the sense of "I'm not alone" is very important! One thing I'd like to note is that I actually don't speak English very well--I can write well, but I have a very strong accent, and in the real world, I'm often asked, "what are you saying?" or told, "I don't understand your English," "Your English doesn't make sense," "You sound uneducated." But at the RISERS fellowship, people tell me, "It's not that you don't speak English well; it's that you speak English distinctively." "There's a story in that distinctive voice that people need to hear!" The fellowship built my confidence and made me feel that I have every right to use my voice. 
The program also supports fellows as parents by providing Q & A sessions with child development experts (shoutout out to amazing Lina!) Those sessions are so helpful and refreshing. Afterall, before being advocates, we are first and foremost moms.  
What do you think are the biggest struggles for parents in the USA today? Through your time as a MR volunteer and RISER, how have things changed or improved? 
There are lots of struggles that parents, both moms and dads and all the mom-figures and dad-figures, are facing in today's USA. But today, let me just speak from a mom's perspective. I feel moms are facing too many impossible choices and the system is to blame. Take myself as an example. I'm a work-from-home mom and it has been ten years. I'm not happy about this despite it's a choice after careful thinking. 
In a perfect world, I would work full-time outside the home, bring the 50% of our household income, and play with the kids when I'm home. But I'm a work-from-home mother. It's not because I don't want to be in the workforce; it's because I can't afford to be in the workforce.
And I'm not alone. A 2016 Gallup number told all. Considering the wage gap, the lack of pregnancy policies and paid family leave, the discrimination against women at the workplace based on family reasons, the cost of childcare, for many moms, including me, leaving the home would cost more than staying. At age 28, I was the U.S. based correspondent for the largest non-profit TV network in the Chinese speaking world. At age 30, I moved into an anchor position for an Asian-language TV station serving Southern California and had my own TV news magazine. I thought I was going places. But at age 33 I moved back home. The TV station entered bankruptcy in the economic crash and I moved to a newspaper which then refused to accommodate my lactation needs. I lost my job over the breastfeeding discrimination claim against the company. When it was settled, I was left to freelance from home. For the ten years after that, I brought home exactly the same as what it cost us in child care. I might be able to make a little bit more if I worked outside of the house, but thinking of the odd hours and unset schedule (which is the nature of working in the news industry), it is nearly impossible for me to go back to the workplace. We also waited for five years to have a second child, for the child care would cost us twice as much as what I bring home if we had two children under five years old at the same time, forcing me to stop freelancing and become a real, full-time mother.  
The only way for me to have a child and also a career is to work from home and have only one child every five years. So here I stay. 
My children are now 10 and 5 and I finally become hopeful again
Earlier this year, President Biden signed two historic laws—the Pregnant Workers Fairness Act (PWFA) and the PUMP for Nursing Mothers Act. I'm totally thrilled. These federal acts truly mean so much. It sent out a clear message that it's not kindness for employers to support pregnant/breastfeeding employees, it's the law.  It helps shape our culture and build a society in which the importance of breastfeeding is recognized, respected and supported.
As for myself--after all the difficulties and frustrations I've been having, I'm now back to school to study children's literature. After ten years of advocating for birthing and breastfeeding rights at the workplace, I'm moving on to combat book bans and advocate for more diverse books. And of course, I'm still with MomsRising!
Is there a memorable moment in your advocacy that you'd like to share?
The victories of PWFA and PUMP are very personal to me, and I had the great pleasure to share my story at a White House celebration event in June. Thank you MomsRising for the great opportunities and support. 
Thank you To-wen for your advocacy for birthing and nursing justice and for all you do for families! We look forward to working with you to fight book bans and continue to increase family economic security, to end discrimination against women and mothers, and to build a nation where families can thrive!
Interested in learning more about the RISERS program? Learn more about the RISERS fellowship and how to apply to the 2022-2023 cohort here.