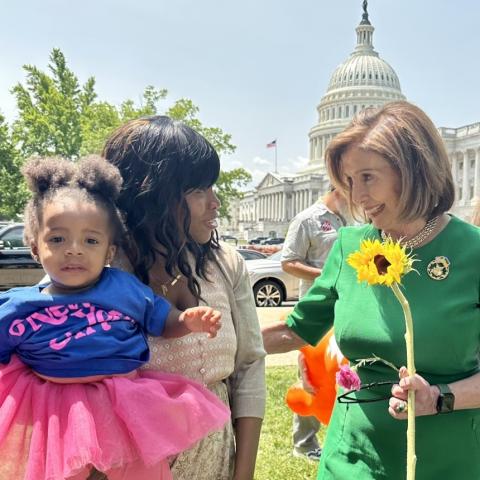 The 2023-2024 National RISERS Fellowship Applications are OPEN!
Are you a parent or caregiver who has children or works with children ages five and under?
Are you interested in helping lawmakers understand what families in the USA need? 
Are you interested in building power in your local community? 
If you answered YES to these questions then being a RISER might be for you!
Want to learn more? Keep scrolling... click here if you're reading to apply!
We're excited to announce that the RISERS Parent Leadership program application period is now open for the 2023-2024 year! 
What is the MomsRising RISERS Early Learning parent leadership program?
The RISERS parent leadership program invites moms and caregivers to participate in an eight month leadership program with a focus on early childhood – issues like child care, maternal health and mental health, and other prenatal-to-three issues. They participate in trainings to increase their advocacy skills and are supported to become leaders in their communities and raise their voices on the issues that are important to families.
Who are RISERS? 
RISERS come from all over the country, in big cities, suburbs and some in rural communities. and all walks of life. RISERS represent racial and ethnic diversity, as well as diversity in life experiences, language, family structure and socioeconomic status. The group includes single parents, student parents, foster and adoptive parents, early childhood educators, parents of children with developmental needs and medical needs, and LGBTQ+ families, and immigrant parents.  
What does it mean to be a RISER?
As a RISER, you will participate in advocacy, civics and leadership trainings. You'll learn how to be an advocate on local, state and federal levels on the issues that matter most to families. You'll share your stories, participate in rallies, town hall meetings and hold your elected officials accountable. You will build power in their local communities and invite other parents to be part of the change families need. RISERS also receive support from a childhood development expert and network with other parents leaders from across the country, as well as guest speakers on a variety of topics. RISERS receive a stipend for their participation in the program and ongoing 1:1 support and connection from MomsRising staff to be sure you have all you need to meet your advocacy goals in the program. Because we know you're busy and value your time, you'll receive a stipend for being a RISER. 
What kind of activities do RISERS do? 
Participants in the RISERS program engage in a wide range of activities, depending on comfort level and what is happening legislatively on local and federal levels. RISERS is a virtual program with monthly meetings ranging from 1.5-2 hours, and with a one in-person meeting. Here are some examples of how RISERS are advocating: 
Writing letters to their legislators

Talking to media 

Dropping material off at their lawmakers' offices 

Meeting with policy and lawmakers

Recording a video story

Sharing their parent expertise with policy makers and organizations 

Writing blog posts and op-eds 

Speaking at school board meetings 

Attending and speaking at official Congressional events
Why be a RISER? 
Moms are powerful in creating change! Lawmakers need to hear directly from moms and caregivers about what they're experiencing raising families in the USA. 
MomsRising is recruiting for the next cohort of RISERS which starts in the fall. If you're interested, please please complete this interest form. Applications will be reviewed during July and August. 
Questions? Email risers@momsrising.org