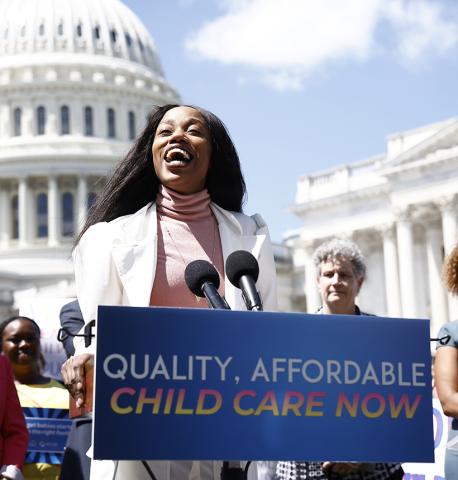 Empowering Our Volunteers & Growing Long-Term Local Leaders Through the Power of Storytelling
As humans, we live in and through stories. Neuroscience shows that our brains like stories—we actually crave stories—and when we hear a well-told story, it helps us to cut out distractions, helps people remember concepts with greater accuracy, and as hearts are changed as stories are told and heard, minds can be changed about the need for public policy.
Let's face it numbers don't lie, statistics paint a picture, but stories are incredibly effective when it comes to moving change.
Our stories – each of our stories – are powerful. Our stories educate leaders about what's really going on with families in America so that much needed policy changes can be propelled forward; our stories shift the narrative when the media covers what's happening in our lives; and our stories let each of us know that we are not alone because when so many people are facing similar struggles at the same time, we don't have an epidemic of personal failures, we have national structural issues that we can and must solve together. 
Stories can boost our feelings of trust, compassion, and empathy, and even inspire us to work with others, build connections, and pass and propose legislation. Because of our brain's unique love affair with hearing narrative, storytelling around specific policy issues is a critical component of how MomsRising galvanizes a community, builds momentum in order to move policies forward; and, in the best outcomes, actually shapes the policies that come to fruition.
The act of sharing stories is often empowering, liberating, and even an important step in the process of healing and leadership development as storytellers are supported and trained in a journey of public speaking and organizing. In 2022 alone, MomsRising volunteers shared more than 5,000 stories related to our advocacy campaigns.
MomsRising member, Daniella Knight, from Annapolis, Maryland told us:
"As a working mother of three, I often felt so alone under the pressure of providing and caring for my family without access to affordable childcare or paid leave. There were times when the odds truly seemed insurmountable and I wondered if I was the only one struggling so much to balance everything and do a good job. Joining MomsRising and having the opportunity to share my story, our family's story, gave me a chance to not only bring awareness to policy issues that are hurting families and need to be addressed, but also a community of parents and families who are in the same boat and fighting for a better future for their children and families. Thank you for being there and for welcoming me with open arms."
Through sharing her story, Daniella was trained by the MomsRising media team, supported by organizers in her leadership development, and lifted in the media.  In fact, Daniella's story was featured in media reports by the Associated Press, The New York Times, Prism Reports, Huffington Post, Marketplace, and Good Morning America. She was also a speaker during a House Ways and Means Listening Session, a CTC Roundtable with Chief of Staff to the First Lady Julissa Reynoso, and in meeting with Secretary Becerra; and she was featured in a video by USDOL Women's Bureau.
Daniella isn't alone. MomsRising member Angelina Scott, from South Carolina, said of her experience about sharing her story on the high cost of prescription drugs during the lead-up to enactment of the Inflation Reduction Act:
"Being heard and possibly saving other people's lives at the same time means EVERYTHING! Life is so precious and fleeting. There are so many things that can happen to us naturally that result in death—lack of meds should NOT be one of them! That's preventable!" 
Angelina's story was featured in USA Today, CNN, and NBC.  Volunteers like Daniella and Angelina generated over 1,900 media moments in 2022, with a reach of 5.6 million.
Our stories are a big part of our lives, of our power, and of the way we move change. 
As we tell our stories, we also appreciate that, due to the traumatic nature of so many of our stories, sharing isn't only part of a leadership development journey where new skills are achieved, sharing also often takes an emotional toll. To help mitigate this as much as possible, MomsRising works meticulously to support our storytellers through the storytelling process by ensuring storytellers are trained, supported, and feel prepared before sharing their story at a live event, with media, or online. MomsRising also takes care to make sure storytellers don't feel overwhelmed or overexposed, and works within boundaries of comfort while creating space for storytellers to build and develop leadership and power across the work as MomsRising also maintains confidentiality when needed. 
MomsRising also builds and supports the leadership of storytellers  over time, engaging at multiple levels, and staying engaged. For example, MomsRising storytellers helped draft our Mom Platform for candidates for office and super volunteers helped us write our Early Learning mission statement. Conversations like this directly helped shape legislative conversations, including some components in the Child Care for Working Families Act. 
Projects with storytellers (and continued iterations of them) directly inform our campaigns and decision-making. The basis of building power is through both relationships and shared stories - from this foundation we can more effectively build and support the power of our members to inform and change policies and demand an elected government that reflects and respects us in every dimension.
MomsRising works to open avenues for MomsRising member stories to be heard by leaders, the media, and the public. This is critical to building the long-term leadership capacity of the storyteller themself, and to identifying new leaders who are closest to the problem and therefore, closest to the solutions.
One example of this, is from our RISERS Parent Fellowship, an eight month national leadership development fellowship with a group of 20 fellows from 15 states and focused on early childhood (issues like child care, maternal and mental health, and other prenatal-to-three issues). The goal of this fellowship (and all of our fellowships) is to increase the leadership skills of parents and create long-term relationships that build power and uplift parent leaders to be in long-term movement work – and many of the MomsRising fellows have found voice and power in the sharing of their story. Some quotes from Riser Fellows follow:
"My biggest takeaway from the fellowship was that we all have stories as moms that have the potential to influence change in big and small ways." - Gina, Maine 
"This fellowship inspired me to find my voice; that I don't have to hide my voice just because I don't speak English very well." To-Wen, California 
"I joined not knowing 100% what was going to come out of it and I left feeling much more prepared to talk and debate issues. I feel very empowered by the group and all of you. Thank you." Ivonne, Virginia 
Another example of the ability of storytelling to  transform lives and empower leadership development is with MomsRising member, "M," from New Hampshire (who gave permission to share her story but wished to remain anonymous). M came to MomsRising as a multi-issue storyteller. As a survivor of domestic violence, she had lived decades of her life in survival mode which left her feeling like she could never make a difference. She was timid and felt alone. As a fellow, she gained a sense of community, skills to change the world, and confidence. Over time, with the support of those in our fellowship community, M was able to get resources and remove herself from the abusive relationship and household – and has since started working on housing challenges in NH and organizing in her local community. She is now a Beacons of Hope Community Leader and a mentor for this year's NH fellows. 
Further, since connecting with MomsRising, M has spoken publicly about increasing access to childcare for kids with disabilities, expanding the child tax credit, addressing the housing shortage, passing comprehensive paid family leave, and protecting healthcare and reproductive rights. She has become one of our most engaged members and is a true local parent community leader. Like M, many MomsRising fellows become Beacons of Hope in their communities - advocating for change, joining school boards, changing career paths and assisting each other in finding support and services, as MomsRising supports leadership growth and development. What MomsRising and our volunteers do is impactful and beautiful.
Make no mistake, storytelling is quite often the on-ramp for some of MomsRising's most engaged, passionate, and effective long-term community advocates. Storyteller success stories like Daniella's, Angelina's, and M's, show that a critical piece of the advocacy process is providing space within MomsRising's work for a story not only to be told, but for the teller of the story to have further growth and leadership opportunities.
The end result of the voices of highly impacted individuals being shared, is better informed public policy decisions, and most importantly, community leadership being supported and developed over time. Stories can change and expand the narrative that traditional media carries, to move the bar of public opinion, and increase the knowledge base of decision-makers in order to help pass legislation. Stories often show why newly proposed policies are desperately needed in a far more impactful way than numerical charts – and when storytellers are supported as leaders and involved deeply in the process to craft and shape policies, we all benefit from better public policy decisions.