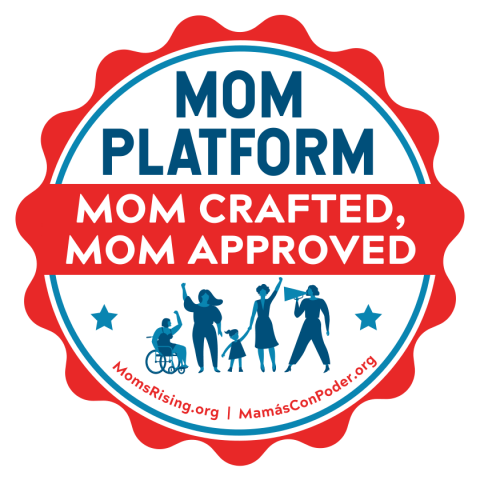 Introducing The Mom Platform: Mom Crafted, Mom Approved
You know. Moms know. We know. We all know what's happening in our families, our lives, and our communities. We know we're not alone. We know the truth about dealing with our healthcare system, about the cost of childcare, about what it takes to raise a family. It's time to put our truth on center stage. There are so many candidates running for office — and it's critically important to let each of them know EARLY about the policies that moms expect them to champion. They need to know what issues moms, not just corporate lobbyists, prioritize.
That's why TODAY we are introducing the "Mom Platform: Mom Crafted, Mom Approved" -- a comprehensive, mom-powered policy platform that we'll be giving to candidates. And by "Mom Crafted" we mean crafted by YOU!
We're not kidding: Moms, dads, and families from across the country have lent their expertise and lived experiences to inform, craft, and build the Mom Platform. Moms have joined conference calls, shared stories, and filled out surveys to ensure this platform meets the high standards (and needs and demands) of families across the nation. 
Policies informed and built by those most impacted are our best hope for building a future that is for everyone. The Mom Platform comes from the hearts, souls, and expertise of families who demand and deserve a country where we can all thrive.
We are so honored to stand with the over million MomsRising members from across the country to introduce the Mom Platform: Mom Crafted, Mom Approved. We'll be hand-delivering the Mom Platform to candidates across the country. We'll also be asking MomsRising members like YOU to sign on to the platform, as well as to continuing to help spread the word to candidates to ensure they know what issues moms prioritize. (Stay tuned!) Making a better world for moms everywhere is  a marathon, not a sprint -- and we're in this for the long run with you. 
Thank you for raising your voice and working to build a nation where everyone can thrive!
Now, without further ado, click here to see the powerful Mom Platform: Mom Crafted, Mom Approved!