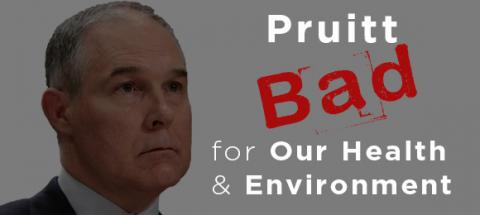 Stop Trump's Dangerous Pick for EPA
The Environmental Protection Agency (EPA) is the agency that safeguards our air, drinking water, and regulates chemicals in our environment. It is one of the most important agencies protecting the environment for our children and generations to come.
The next head of the Environmental Protection Agency (EPA) will oversee longstanding health rules that have protected American children and families for decades. This person will also be in charge of implementing the new chemical safety bill adopted by Congress last year – a historic law on the chemical health threats found in hundreds of products that our families use every day.
So it is especially alarming to see that former Oklahoma Attorney General Scott Pruitt has been nominated to lead the EPA. Pruitt has a long history of siding with chemical and fossil fuel interests over our health and the environment. To put it bluntly, Scott Pruitt is dangerous to our environment and our families.
Pruitt has fought against regulations that are supported by the American Academy of Pediatrics, the American Lung Association and the American Public Health Association. His views on the most well documented health threats to children are simply indefensible. For example:
When asked about whether any amount of lead was safe in drinking water, Pruitt said he didn't know.
When asked if he had filed any lawsuits on behalf of Oklahoma children who suffer from air-pollution related asthma and other illnesses, he said he did not because there was "no injury." 
When Pruitt was asked about asbestos, a chemical that has devastated millions of families, he refused to state he would support a ban on the chemical.
The Senate may vote on Pruitt's nomination this week! Here's a chance to stop this disastrous choice and impact the lives of your grandchildren: call your Senators now and urge them to oppose Scott Pruitt as head of the EPA! Please take one minute to call NOW!
We need a strong leader at EPA, one who stands for safeguarding children from toxic air pollution. We need a leader who protects safe drinking water, and promotes safe food without deadly pesticides or polluting factory farms. The EPA chief should support innovation for safer products made without risky chemicals, and must promote clean energy solutions over the disastrous operations of the fossil fuel industry.
Pruitt fails in all of these areas.
Please call today to tell your Senators to oppose the nomination of Scott Pruitt to head the EPA.