Russian Roulette with Our Kids Future?
Why we need our Presidential candidates to talk about climate change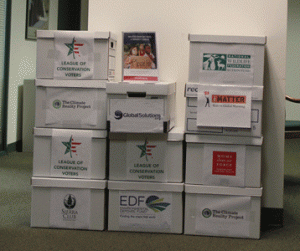 Personal appeals and more than 160,000 signatures for climate change to be included in Oct. 3 Presidential debate, delivered to The NewsHour offices.
This summer, the United States experienced record-high temperatures and devastating droughts and floods – extreme weather conditions that experts ascribe to climate change. And how scary were the unprecedented wildfires in Colorado that displaced thousands of families? Yet, President Obama and Governor Romney have barely talked about it.
Parents would never allow their children to play Russian roulette, so we really don't like our government taking chances with our children's future by sitting out the issue of climate change. According to a recent Yale University poll, 72 percent of Americans believe that it must be a national priority, which means the vast majority of Americans want action on it now. We need to know what our presidential candidates intend to do about global warming, and the best opportunity to find out is the upcoming presidential debate.
That's why MomsRising joined a coalition of environment and public health organizations in calling on Jim Lehrer, when he moderates the first presidential debate on October 3, to question Romney and Obama about this critical issue. The coalition gathered more than 160,000 signatures calling for climate change to be on the debate agenda, and close to 500 MomsRising members across the country sent in personal appeals telling Lehrer about how it affects their families and why our presidential candidates need to be talking about it now. The signatures and the appeals were delivered to Lehrer's office at The NewsHour late last week.
Just a few of the amazing MomsRising voices who personally asked Lehrer to include climate change in the Presidential debate:
Clara in California:

"As a father, Mr. Lehrer, you know it's important for parents to have an idea of how government's policies could affect their children's future. So, after a summer filled with fires, droughts and tornadoes in NYC, I request that you PLEASE ask the candidates their views on climate change and how they will ad¬dress the problem. THANKS!"

Sister Celeste in Kansas:

"The Midwest is under a devastating drought. There is hardly any corn to harvest and food prices are quickly rising. The ethanol issue and the wind farm industry are all experiencing severe deficits, because no one knows if there is going to be any funding for these alternative fuel resources. We need to hear from Rom¬ney and Obama as to what they are going to do about climate change."

Howard in Montana:

"I keep thinking there must be some individuals in the world of policy making that have children and grandchildren that they care about — is oil in the Arctic a Siren call so powerful that they cannot heed the danger — even for their own blood legacy?"

Bonita in Nebraska:

"We farm in the area of Nebraska hardest hit by the drought. Climate change is devastating to our fields, crops, and pastures. We need to know what our candidates will do to make this issue the top issue of our time before it is too late for our world."

Genevieve in New Mexico:

"My family lives in New Mexico, a state that has recently been plagued by forest fires due to drought and record-high temperatures caused by climate change. My grandparents lost their home to one of these fires, something devastating for any family to go through. I want to know how each presidential candidates plans to prevent further damage to our climate and environment."

Janice in Pennsylvania:

"Dear Mr. Lehrer, I have 2 young boys who suffer from asthma. There is nothing quite more frightening than holding your 5 year old in the middle of the night when they are coughing and wheezing so much that they can't seem to catch a breath. I want to know what Romney and Obama plan to do about climate change and air quality. Will you please ask them during the debate?"

Kate in Virginia:

"Please Mr. Lehrer, I have watched your show for many years. Please please please do a good job. Please ask questions about the climate crisis, about women's rights, about medicare. I have daughters, I have an elderly mom."
Play Presidential Bingo and help track if the debate will cover climate change and other issues important to families
Jim Lehrer is not only a celebrated journalist, but a father of three and a grandfather of six. We need to get him to think about his grandchildren's future when he moderates the October 3 presidential debate and ask about climate change and other issues critical to American families. Will he?
You can help keep track of how Lehrer, Obama and Romney do by playing Presidential Bingo as you watch the debate tomorrow night. MomsRising has done a bingo card for the past few elections as a way to hold candidates accountable and to keep track of how many times they talk about our issues - including clean air and climate change.
*Get the BINGO card here: http://www.momsrising.org/page/moms/bingocards
~~Fired up? Join MomsRising now!