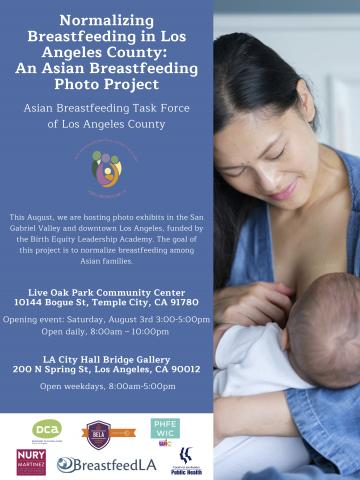 Photo exhibit launched to combat breastfeeding stigma in Asian-American communities
August is National Breastfeeding Month. My colleagues at the Asian Breastfeeding Task Force of Los Angeles are hosting photo exhibits in the San Gabriel Valley and downtown Los Angeles, in which 17 local moms joined this movement. 
Los Angeles is home to the largest Asian American population in the U.S. with over half a million Asian Americans and 7,000 Native Hawaiians and Pacific Islanders reside in the San Gabriel and Pomona Valleys. Almost half of Asian Americans in the San Gabriel Valley are limited English proficient, yet less than 6% of lactation professionals in Los Angeles County speaks an Asian language and prenatal medical visits offer little breastfeeding education using language-appropriate materials. These barriers greatly hindered Asian mother's chance to successfully breastfeed.
I have personally witnessed the breastfeeding barriers in Asian-American communities: When I returned to my previous newsroom three month after giving birth to my first child, my previous employer--a self-described "largest Chinese-language newspaper in North America" published an article claiming breastfeeding imges disturbing and disgusting. I realized that somewhere between my mom being born, and me being born, the culture shifted from one where breastfeeding was viewed as social norm to stigma. I feel that we need to restore the social norm and send out a clear message that breastfeeding is not disturbing; It's beautiful. I started to volunteer with my local breastfeeding coalitions and I'm very happy that we are launching our first photo project. 
Funded by HealthConnect One Foundation's Birth Equity Leadership Academy and the Office of Councilwoman Nury Martinez, the project showcases 17 mothers breastfeed their babies and aims to normalize breastfeeding among Asian families. I was also posed in one of the photos with my 19-month-old.
"For women who are able, breastfeeding is one of the easiest, simplest ways to give their baby a healthy start in life," said Councilwoman Martinez. "I am proud to partner with BreastfeedLA and the Asian Breastfeeding Task Force to erase the stigma for new mothers and help ensure a healthy future for our children."
The exhibit is open to the public daily in August at Live Oak Park Community Center in Temple City, and all weekdays LA City Hall Bridge Gallery in downtown Los Angeles. An opening event is scheduled on Saturday, August 3 at 3pm at Live Oak Park Community Center.
Watch a video in which my colleagues talk about Asian Breastfeeding Task Force of Los Angeles County: who we are, our mission, and our new Asian Breastfeeding Photo Project: https://youtu.be/M57ppxzuB68
Read More: Normalizing Breastfeeding in Our Community