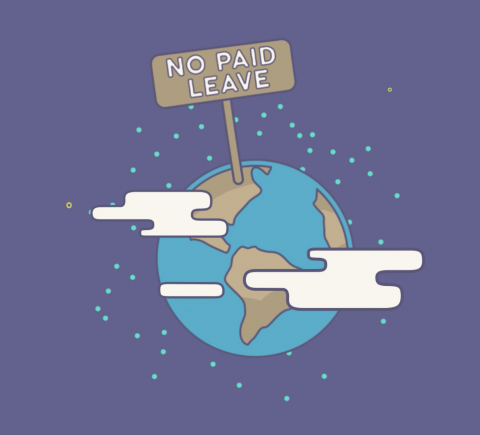 Paid leave that works for families, business & the economy!
I am a planner. I plan for everything. From my weekly dinner menu to my annual physical, I schedule, prioritize, and plan out every last detail I can. But sometimes the unexpected happens - a family member falls severely ill or a spouse is diagnosed with cancer.
That's where paid leave comes in. Paid family and medical leave allows families to deal with the unexpected and care for family without fear of losing a paycheck.
→ Tell Congress: We need paid family leave for ALL working families!
American workers need a national comprehensive and robust paid family and medical leave program that is more than just maternity and paternity leave. We need a program that enables working people to take a meaningful length of leave to care for themselves, a family member with a serious illness, or the arrival of a new child. We need a program that is accessible to all working people, covers all families, and is affordable, cost-effective and sustainable for workers, employers, and taxpayers.
And we need it now.
What's the urgency? Right now, only 15% of workers in the United States have access to paid leave through their employers.[x} This means that when the unexpected happens most families end up cobbling together some combination of vacation time and sick days and then cross their fingers that nothing goes wrong and that they'll be able to make ends meet.
When it comes to meeting the needs of working families in the United States, we're really behind the times and we need to get caught up. And there is no time like the present to do just that.
→ We need paid leave that works for families, business, and the economy!
This year marks the 25th anniversary of the Family Medical Leave Act (FMLA). FMLA was a great start, but it only covers about 60% of employees and more importantly even workers who are eligible for FMLA can't afford to to take the unpaid time off. [x] This lack of paid, job-protected leave is why 1 in 4 new mothers is back at work within 10 days of having a baby and also why 1 in 5 retirees leaves the workforce earlier than planned because they need time away from work to care for a spouse or loved one.[x}[x]
-> Tell Congress it is time to enact a paid family and medical leave policy that works for families, business, and the economy!
Whether it's to care for a newborn you swear already smiles, a mom who is severely ill, or a spouse battling cancer, being there for family is what matters. No one should permanently lose their job when an urgent and unexpected family matter arises.
What we need is a national paid family and medical leave policy because no one should be forced to choose between a paycheck and taking care of family. Care is Care is Care! Tell Congress that we want a comprehensive paid leave bill that benefits ALL workers!
States Leading the Way
The good news is momentum is building across the country. Five states - California, New Jersey, New York, Rhode Island and most recently Washington have passed paid family and medical leave.
In 2017 alone, over 20 states have introduced some sort of paid family and medical leave insurance legislation. MomsRising is working closely with paid family leave campaigns across the country. Learn more about their efforts below:
MASSACHUSETTS
The fight for paid family and medical leave in Massachusetts is on fire in Boston right now! We have a real chance of winning in Massachusetts this year, but only if lawmakers keep hearing from you.
Here's the scoop: Recent increased attention about the paid family leave campaign in the Bay State has put additional pressure on legislators. That means the time is now to step up our efforts and let lawmakers' offices know that Commonwealth families need a comprehensive and robust paid family and medical leave policy. Let's up the pressure on state legislators and urge them to get moving! Ask your state legislator to make enact paid family and medical leave for Massachusetts for families.
COLORADO
Can you believe that in Colorado, less than 15% of workers--and only 5% of low-wage workers--have access to paid leave? Working families in CO need a robust paid family and medical leave policy that checks ALL the boxes: It needs to be ACCESSIBLE to all workers, offer a MEANINGFUL length of leave, be AFFORDABLE for workers, employers and the government, INCLUSIVE in defining family, and offer job PROTECTION. HB 1001, the FAMLI Act (Family and Medical Leave Insurance) checks all of those boxes! Tell CO lawmakers: We need paid family leave for ALL working families!
CONNECTICUT
MomsRising is working closely with Connecticut Campaign for Paid Family Leave on a paid leave proposal that is affordable for Connecticut workers and businesses, is accessible to all working people, is inclusive when it comes to defining family, and offers a meaningful length of time for care and healing. S.B. 1 and H.B. 5387, An Act Establishing Paid Family and Medical Leave are fully funded through an insurance-style program that lifts the financial burden off businesses. There is less than a month to go before the legislature adjourns and Connecticut families can't wait. Urge Connecticut lawmakers to enact paid leave!
NEW HAMPSHIRE
MomsRising is working with our members in NH and other statewide partners to ensure that New Hampshire moves forward to offer a paid family and medical leave program that provides adequate time to care, effectively covers all New Hampshire families and provides an appropriate level of reimbursement for workers. New Hampshire needs Paid Family and Medical Leave Now!
OREGON
During the short 2018 session, the Oregon State Legislature considered HB 4160. MomsRising members sent in hundreds of letters of support to lawmakers, but the bill did not move past committee. With recent wins on family leave in Washington and California, it's time for Oregon to make its mark! Help us build MOMentum for paid family and medical leave in Oregon by sharing your experience with or without paid leave. Our stories are powerful and they build a path for change. When we share our stories, they show lawmakers what families are experiencing and show the need for swift action. Please click here to share your story.
PENNSYLVANIA
A recently released report from the Pennsylvania Department of Labor details how Pennsylvania could enact a statewide paid family and medical leave program that would enable working families to take paid time off for a range of caregiving needs including to care for an ill spouse or for the arrival of a new child.

The report also shows that 78% of Pennsylvanians strongly favor a statewide paid family leave program. A plan proposed in the report would allow workers to pay into an insurance fund through a small deduction of 0.4 and 1.2 percent of their salaries. That amounts to about $3.88 dollars per week - or the price of a few cups of coffee. Now that we've got all this great news, it's time to urge our state legislators to get moving! Join the Pennsylvania State Moms Force - Make 2018 MOMentous for Pennsylvania!
WASHINGTON
Washington is expecting…paid family and medical leave in 2020! The Washington State Legislature passed a best-in-nation paid family and medical leave law in June 2017 that covers all workers and includes options for self-employed individuals. The state is hard at work with advocates and business leaders to set up the new program which will provide paid leave while employees are away from work for the birth, adoption, or foster placement of a new child; to care for a seriously ill family member; or to recover from a serious medical condition themselves. And businesses won't have to carry the financial burden while their employee is on leave – payments will come directly from the Washington State Economic Security Department. Starting in 2019, employees will start contributing to the program with small payroll premiums (about $2 a week) and benefits will be available beginning in 2020."
Now we need your help to spread the word about this new program so that families know about this important new benefit. MomsRising has put together an easy-to-use toolkit for living room conversations (or Meetups as we like to call them!) where you can learn about the new program, share information about how it will work, and take action to help Washington families prepare for this MOMumental leap forward. Sign up to host your own Meetup here.
MomsRising Members Share Their Experiences
These are just a few of the tens of thousands of experiences MOmsRIsing members have shared with us about the importance of paid family and medical leave.
"I used every minute of my sick leave and vacation time, coupled with my short term disability and several weeks of leave without pay to take the FMLA-guaranteed 12 weeks of (unpaid) leave. When the baby slept, I didn't sleep. I worked from home to try to scrape together a few days worth of pay to supplement my leave without pay. While recovering from a particularly difficult c-section delivery, my recovery was set back by the stress of wondering if I had enough saved to pay the bills while I was out of work with my newborn."
- Donna, Massachusetts
" [I] had a ulcer operation. Tube stuck down my throat went too deep. It took awhile for them to discover this. Was in the hospital for 6 weeks. Had about 160 days of paid leave which really helped out."
- Larry, California
"NOT having paid family leave meant that our family had to turn to forms of public assistance for help. It was very stressful to worry about money while also nursing and taking care of my little one. Thankfully it was temporary. What was not as temporary was the credit card debt we accumulated while I was on leave--it took four years to erase that debt. When I think about how much knowledge and skill I have gained while on the job, I am flummoxed at the lack of investment workplaces have in ensuring that their skilled workers return."
- Sarah, Vermont
Did you get any paid family leave after a new baby arrived or to take care of a seriously ill family member? How did it work for you? Are you someone who had to cobble together a patchwork of vacation and sick days to stay home? Share how having - or NOT having - paid family leave has impacted you and your family.